Many cable customers are entering the New Year with a price increase for renting their modem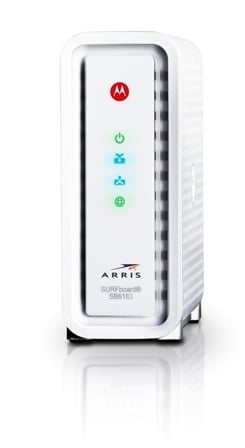 from their service provider. You might be one of them. This year, make a resolution to get your own. You'll save some money and get a better Internet connection too.
Here's an example: buy the world's fastest modem at retail, our ARRIS SURFboard® SB6183, and save an average $9 each month (or more than $100 a year) in modem rental fees. Use that incredible speed and the money you save to treat yourself to a subscription to Netflix… or a quick shopping trip to Amazon.com… or an old-fashioned dinner out with your family.
The point is: your money could be better spent, and when you spend it buying vs. renting a modem, you'll not only save money, you'll get a better modem. ARRIS is the world's leading manufacturer of cable modems, and we've put together an expert buying guide to help you escape modem rental fees and get the best modem for your home. We even show how easy they are to install, setup, and use in these how-to videos. Check them out when you have a chance.