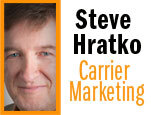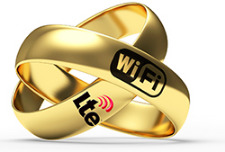 Wi-Fi and cellular are the two most successful wireless technologies in existence and have complemented each other for years. Now they seem to be getting engaged. And it couldn't come at a better time as demand for wireless capacity is at an all time high.  But how this all plays out is another matter altogether.
Wi-Fi's great strength is that it runs in unlicensed spectrum, can be deployed by anyone, and it is supported on almost every smart handheld or IoT device you can think of. Its real sweet spot is high capacity, high-density indoor applications with low mobility. 
In contrast, cellular technology, which has swept across the globe over the last few decades helping to create a multi-trillion dollar telecommunications industry, is ideal for its ubiquitous outdoor coverage, seamless mobility, and support for real-time applications like voice and streaming multimedia.
Combining these technologies offers great promise for the entire industry. But how they come together remains a big question.
There's simply no doubt that these two technologies will continue to converge with the goal of giving users an "always best connected "experience. Ultimately, users don't really care about what wireless technology is used as long as it is fast, reliable and affordable.  
A variety of different approaches to Wi-Fi/cellular convergence are being considered by various industry groups.

As these worlds collide (see previous post),

understanding the distinctions between these different approaches is important, realizing that there's no right or wrong answer, just different choices (depending on your frame of reference). Like everything, the market will ultimately decide what works best and when.
LTE in Unlicensed Bands (LTE-U and LAA-LTE)
One such option that has received a lot of attention recently is LTE-U. Being promoted by QualComm and other radio access network (RAN) vendors, LTE-U is an approach to run LTE directly over the 5GHz unlicensed bands. While it isn't so much convergence as it is way to obtain additional wireless spectrum for mobile services, this concept is now under development by 3GPP (3rd Generation Partnership Project) for standardization in Release 13 as LAA-LTE (license assisted access). 
LAA continues to run the LTE control channels, and primary uplink/downlink channels in the licensed bands, using LTE-A Carrier Aggregation (CA) to do channel bonding between the licensed and unlicensed downlinks, and possibly the uplinks in follow on releases.
 The purpose of the unlicensed bands is to provide

additional data plane performance – a data plane boost in effect. The great challenge with this approach revolves around getting LTE to peacefully coexist with Wi-Fi in the unlicensed bands, but the sharing of spectrum is not in the LTE DNA.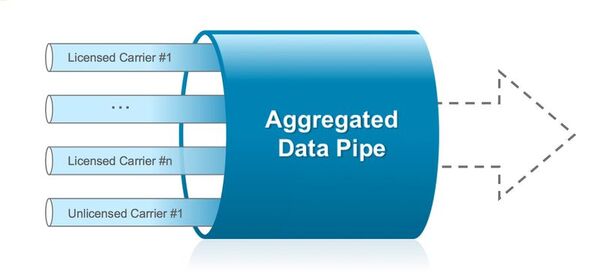 Proponents say that LTE-U can easily coexist with and protect Wi-Fi operations in unlicensed spectrum, similar to the way different Wi-Fi networks shared the band today. Others worry that the scheduled nature of LTE could cause it to push Wi-Fi out of these bands.
LTE assumes that it has full control over the frequency bands in which it operates and was never really designed to contend for access to the medium, unlike Wi-Fi, which is a first-come, first-served contention-based access model.
Wi-Fi employs a listen-before-talk (LBT) mechanism. Any device wishing to use the band must listen to see if it is occupied.  If the band isn't busy, the device can seize it and start transmitting. The band can only be held for a maximum of 10 milliseconds after which it must be released and the LBT process repeated. This assures fair access to the medium and has proven to be a very effective way of sharing unlicensed spectrum. The challenge for using LTE in unlicensed bands, is how best to implement LBT as it will require changes to the media access control layer.  
Failure to correctly implement listen-before-talk, will likely limit the viability of LTE-U technology, as public venue owners and other businesses will be reluctant to deploy anything that might negatively impact the unlicensed bands.  Public venues include hotels, conference centers, stadiums and transportation hubs. These are highly desirable locations with heavy data demands where a high quality Wi-Fi service now play an essential role in bringing customers into buildings and keeping them there.
 This effectively causes public venues to put a premium on protecting the unlicensed bands.  Many venues now even employ staff to keep track of how these bands are being used.  This makes it essential that any LAA-LTE standard coming out of 3GPP support LBT per IEEE specifications.
LTE + Wi-Fi Link Aggregation (LWA)
An alternative to using LTE in unlicensed spectrum that could be much more palatable to the broader industry is LTE + Wi-Fi Link Aggregation (LWA).
This approach, being strongly promoted by QualComm, achieves a very similar result to LTE-U and LAA-LTE, but with some big differences. With LWA, the LTE data payload is split and some traffic is tunneled over Wi-Fi and the rest is sent natively over LTE.  This can greatly enhance the performance of an LTE service. It's expected that LWA will proceed rapidly through the standards process and emerge in 3GPP Release 13 in the summer of 2016. 
LWA centers on using a Wi-Fi access point to augment the LTE RAN by tunneling LTE in the 802.11 MAC frame so it will look like Wi-Fi to another network even though it is carrying LTE data.
With LWA, Wi-Fi runs in the unlicensed bands and LTE runs in the licensed bands, and the two radio technologies are combined to offer a compelling user experience. Both technologies are allowed to do what they do best, and LTE no longer needs to perform any unnatural acts.
Unlike the deployment of LTE in unlicensed spectrum, which requires all new network hardware and all new smartphones, LWA could be enabled with a straightforward software upgrade allowing smartphones to power-up both radios and split the data plane traffic so some LTE traffic is tunneled over Wi-Fi and the rest runs natively over LTE. The traffic that flows over Wi-Fi is collected at the Wi-Fi access point and then tunneled back to the LTE small cell, which effectively anchors the session.The flows are combined at the LTE small cell and then sent on to the evolved packet core (EPC) and from there to the Internet.  
The big advantage of this approach is that all Wi-Fi traffic can benefit from the services provided by the mobile operator's EPC. These services include billing, deep packet inspection, lawful intercept, policy, authentication and the list goes on. If the LTE signal is lost, this service will drop and the user can reinitiate an Internet connection over Wi-Fi.  This approach is somewhat similar to

multi-link or multi-path TCP

, except that the traffic is combined in the cellular RAN rather then back in the Internet. 
LTE + Wi-Fi Link Aggregation would require that LTE small cells to be deployed in the venue, and that any Wi-Fi APs in the venue be software- upgraded to support LWA. The Wi-Fi APs can also continue to support non-LWA traffic on a separate SSID as well, potentially making it the best of both worlds, providing more upside than using LTE in unlicensed bands, with none of the downside.  As such, LWA becomes a solution that doesn't impact the unlicensed band while leveraging existing Wi-Fi access points and improving indoor cellular performance.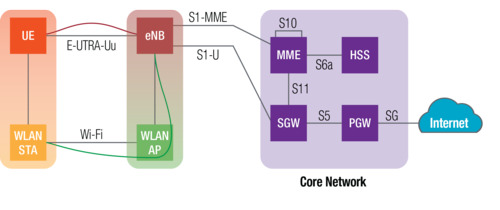 LTE and Wi-Fi Aggregation         
Now What?
The convergence of Wi-Fi and LTE small cell technology will play out over the remainder of the decade.  The end result will be to enable an always best-connected experience for the user.  LTE-U, LAA-LTE, LWA, and multi-link TCP are all options for converging these two great radio technologies and there are others as well.  The future looks bright for carrier grade Wi-Fi technology and LTE small cells.