Our latest Consumer Entertainment Index (CEI) surveyed 19,000 consumers from 19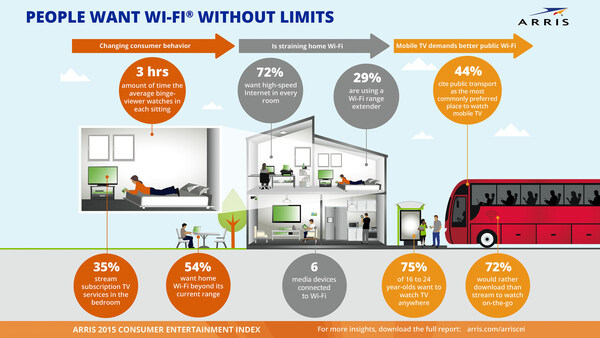 countries for a representative sample of how entertainment is evolving all over the world.
What we discovered is that media is becoming more personalized, pervasive, and mobile… but not in the ways that many had predicted.
Wi-Fi
Let's start with Wi-Fi. It's no longer a convenience; it's a necessity, in every room of the house—according to 72% of the population. But at the same time, 63% have problems with their high-speed Internet.
Why? It could be the growing ecosystem of media devices that are tapping into the home network—the current household now has six. It could also be the fact that people are streaming more video in more places, more often. Either way, it's a high-growth area that's seeing some growing pains.
Mobile TV
Beyond the home, mobile TV continues to expand its following—now representing 59% of the market. But the growth center is in the older demographics—especially 65+—most likely because they've historically been slower to embrace it.
On the whole, mobile TV usage is up 7% since last year—not the rapid growth that many had expected, but we found that the hold-up has to do principally with screen size and data costs, among other hurdles.
Interestingly, data costs, coupled with the unreliability of public Wi-Fi or mobile data on-the-go, has created a unique consumer preference for downloading—versus streaming—mobile content. Mobile TV has a way to go, but people want it: 68% indicated interest in a service that could play any content in any location.
Binge-viewing
That brings us to binge-viewing, which already has evolved considerably since the trend went mainstream just a few years ago.
Binge viewing on mobile devices has grown to 21%, while most still prefer to use a TV. But the most interesting development is that the majority of binge-viewers (60%) binge-view alone—consuming three hours of video in each sitting.
The time investment and content specificity of binge-viewing makes it a deeply personal and immersive activity—much like reading a book—which carries important implications for content discovery and customization.
OTT
Over-the-top TV was once touted as the death knell for broadcast TV, but in many respects that hasn't panned out. While OTT popularity hasn't diminished, its growth has slowed to 1% in the past year. Broadcast TV, meanwhile, declined by the same percentage, staying nearly flat at 95%.
What is proving a reliable trend is the volume of consumer engagement with entertainment. The average consumer now watches 10.7 hours of traditional, free TV in addition to 10.2 hours of paid TV, 6.7 hours of OTT, 6.6 hours of IPTV, and 6.4 hours of paid Internet streaming… each week.
The key takeaways from this year's research are the abundance of opportunities for service providers to improve Wi-Fi across the home, remove barriers to mobile media, and customize content and services to each consumer.
At ARRIS, we take inspiration from each CEI to collaborate with our customers to transform entertainment for millions of people around the world. In effect, the trends you see in year's study not only reflect the evolution of consumer behavior, but offer a glimpse into the future of entertainment.
Take a look at the full results of the 2015 ARRIS CEI at: www.arris.com/arriscei