It's the most wonderful time of the year. Like most of us, you're focused on family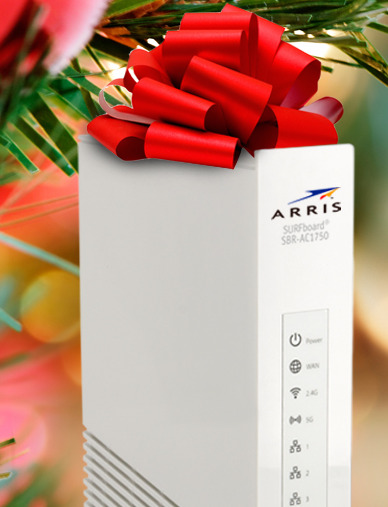 and friends, baking cookies, buying presents and stringing holiday lights. But that last one on your list might actually slow down your Wi-Fi. Holiday lighting creates electrical interference that can affect the wireless network in your home.
What's important to note is that most electronics also have the potential to cause interference—lighting in particular. But you don't have to cut down on your holiday décor to get your binge-watching fix this season. There are two easy ways to make sure your Wi-Fi is as festive as you are…
Start by upgrading your router. A new 802.11ac router—like our SURFboard® SBR-AC1750—can connect you faster over the less susceptible frequencies and uncrowded channels. Another good trick is to use a network extender which lets you boost your Wi-Fi strength wherever you need it.
For more ideas to help speed up your connection this holiday season, check out our Buyer's Guide and the rest of our products at Surfboard.com.