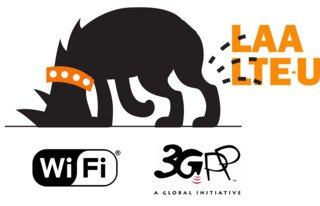 Now that some basic definitions of these new approaches to implement LTE in unlicensed spectrum can be agreed, delving deeper into the colliding worlds of licensed and unlicensed band services, it's important to understand how these technologies might be deployed and some of the options mobile operators will have.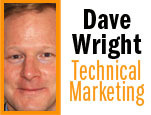 Some pundits have said
"to argue for Licensed Assisted Access (LAA), one needs to make a case for Wi-Fi's insufficiency in some regard."  Really? Why? 
These comments reference pre-standard/non-standard LTE operation within the unlicensed spectrum being promoted by equipment suppliers such as Ericsson, but the same assertion may be made to the other proposals.
To understand what insufficiencies Wi-Fi may have, it is first necessary to understand the services that LTE operation in the unlicensed spectrum would actually support. 
It's important to note that LTE-U and LAA are intrinsically data services.  So is Wi-Fi, notwithstanding adaptations to support real-time, bi-directional services through the use of enhancements such as WMM and the Wi-Fi Alliance's Voice-Enterprise program. So if LAA, LTE-U, and Wi-Fi are ALL used to support data services, how are they differentiated?  The answer is it depends on who you are and what you want.
In June, 2014, the 3GPP Workshop broadly defined LAA's operation as: 
"Aggregation of a primary cell, operating in licensed spectrum can be used to deliver critical information and guaranteed quality of service, with a secondary cell, operating in unlicensed spectrum to opportunistically boost data rate"
 This made it pretty clear that LAA will utilize the unlicensed channel(s) to augment the data path, while the licensed downlink and uplink will be utilized for QOS sensitive services like Voice over LTE (VoLTE).
 Pre-standard LTE-U plans to use the unlicensced spectrum for downlink only traffic, therefore making it unsuited for bi-directional services. 
This leads to another key question: where will LTE within the unlicensed spectrum be deployed?
3GPP's LAA program and ongoing study item include both indoor and outdoor deployment scenarios. However it is clear that both LTE-U and LAA are initially, and primarily, focused on the indoor market given the challenges that are often faced getting cellular signals within buildings and the practical deployment and economic benefits Wi-Fi can provide there.
It's generally accepted that around 80% of wireless data usage occurs indoors. And the target bands for LTE operation in the unlicensed spectrum (namely 5GHz and possibly 3.5 GHz) are ideally suited for indoor applications.
While the 3GPP LAA Study Item scenarios (see below) include an option to link unlicensed LAA small cells directly to licensed macro sites, the majority of cases involve linking the unlicensed LAA small cells to co-located licensed small cells, which will in fact most often be integrated into a single unit supporting both licensed LTE and LTE-U/LAA operation. The focus for licensed small cells is now largely indoors.
Given that LTE-U and LAA are data services, are proposed for the higher frequency bands, and will most likely be integrated into small cells, it's clear that they are envisioned as primarily indoor technologies.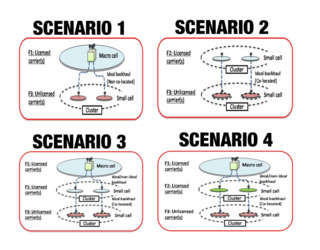 Wi-Fi: A Rock Star for Data Delivery Indoors
That's what it was designed for in the first place. And as the 802.11 standard has evolved and carrier-grade technology has been introduced into the market, Wi-Fi has become more than merely an afterthought for carriers looking for more capacity. It's become a mainline strategic technology to support present and future mobile data services. 
A comparison of the unlicensed options for indoor data service delivery bears this out (see chart).
Relative to neutral 
host support, Wi-Fi is inherently 'operator-agnostic', but can be used to service mobile operator subscribers via branded SSIDs or Hotspot 2.0 services.
With LAA or LTE-U the unlicensed capacity can be transparently added or removed to the client's licensed data links, assuming that licensed coverage is available.  This results in a consistent user experience. However, Hotspot 2.0 addresses the traditional issues and limitations associated with users connecting to Public Wi-Fi and also provides a secured airlink.
Finally the claims of better spectral efficiency for LTE in unlicensed are based on either testing that has been done with the pre-standard/non-standard LTE-U, or simulations of LAA using listen-before-talk (LBT) mechanisms that may or may not prove practical.  The relative performance advantages may not be fully discernable until LAA standards are completed and full evaluations are possible.
Mobile Operator Options for Unlicensed Spectrum
The most compelling advantage for LAA and LTE-U is clearly the direct integration of unlicensed services with the mobile core.
 This is a distinct advantage for mobile operators, enabling a more transparent use of unlicensed spectrum for their subscribers – keeping in mind that Hotspot 2.0 will effectively automate the Wi-Fi connection process and address much of the complexity associated with the millions of today's disparate Public Wi-Fi hotspots.
Within the various proposals of the operation of LTE within the unlicensed spectrum, the dual mode (licensed and unlicensed) eNB presents a unified interface to the mobile core (Evolved Packet Core, or EPC, for LTE networks).
This is more straightforward than existing 3GPP Wi-Fi 'interworking' solutions that allow the data plane from a Wi-Fi network to be interfaced to a mobile core's data handling subsystems, but involve intermediate gateway devices such as Wireless Access Gateways (WAG/TWAG) or evolved Packet Data Gateways (ePDG).
Wi-Fi interworking, first introduced in 3GPP Release 8, has gone through a number of iterations. In a previous

post on Wi-Fi Calling

, we noted that Apple's iOS implementation is making use of the ePDG data path for voice sessions.
For operators choosing to use Wi-Fi as their unlicensed airlink, there is also the option of integrating the authentication and accounting without integrating the data plane.
Using Hotspot 2.0, or standard 802.1X with EAP-SIM or EAP-AKA/AKA', a Wi-Fi footprint can be used to onboard cellular subscribers, authenticate them against an operator's HLR/HSS, and provide details on their data usage, but not actually forward the data traffic to the MNO's core.
This is a popular deployment option that provides transparent connectivity to the mobile operator's subscribers over Wi-Fi.  Yet it doesn'
t require the operator to deploy additional data handling capacity (GGSNs or PGWs) in their core thereby avoiding a good amount of CAPEX.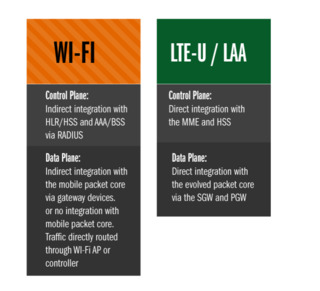 The table on the right (click to expand) helps summarize some of the characteristics of Wi-Fi and LTE in unlicensed as they pertain to mobile operator integration.
Heretofore, unlicensed and licensed wireless technologies have been worlds apart. Now, almost any way you look at it, they are colliding. While it won't happen overnight, the implications will be profound for everyone. So buckle up.