By: Richard Watson, Product Marketing Manager
Remember when you travelled for business and were lucky if you got to stay in a hotel that had good cable, much less, Wi-Fi?  Times have changed, and that's no exaggeration. In today's hotels, the Wi-Fi is free and much faster. This is perfect for your laptop, but what about when you have multiple devices—maybe your tablet and smartwatch, but definitely a smartphone? Wi-Fi connectivity is now more than a nice-to-have; it is mandatory.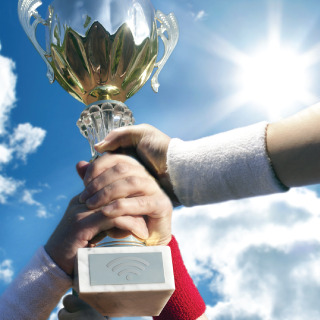 Your requirements as a Wi-Fi user have increased considerably over the past few years. You use it for more than just email or messaging – it is an essential communication tool which places increasingly greater bandwidth demands on a Wi-Fi network. To meet this growing need, hotels initially installed access points (APs) in hallways with assumed penetration into the individual rooms. This was okay for a while, but client density and RF penetration of walls minimized the effectiveness of this approach. Often, hotel IT also had to lay Ethernet cables and power to each room to make these connections work. This was added pressure on their hospitality budgets. At the worst point, customers were shortchanged on their Wi-Fi access and hotels were burdened with growing costs that were hard to manage. Not only was a network connection being run to each room, but other service terminators were being extended such as IP-TV, VoIP-phones, "smart" refrigerators, and room environment monitors. There was no convergence of services. What's needed are Wi-Fi APs with switch capability. These small devices are low profile, converged wired/wireless units that support the latest 802.11ac Wave 2 wireless technology—for 800+ Mbps rates—and multiple Ethernet ports for driving other devices and services in the room through a single network connection. With this set-up, a guest can bring as many Wi-Fi devices as they wish, where the wireless connection is co-located in their room. Additionally, hotel services like phone, printers, air conditioning and service bars can be connected to that single Ethernet backhaul-link. With this level of technology, everybody wins! The guest gets simple, fast and free accessibility to the Internet, phones, printers and other hotel amenities. A hotel (or dormitory or independent living unit) wins because a single Ethernet connection is required (sans accompanying power). An additional plus is that all the room services typically fall under a single pane-of-glass management service. Go
here
for information on Ruckus' new H510 AP/switch geared to meet these hotel requirements.