In the future, dead zones are extinct. Movies don't buffer. And your dog just set up your Wi-Fi® network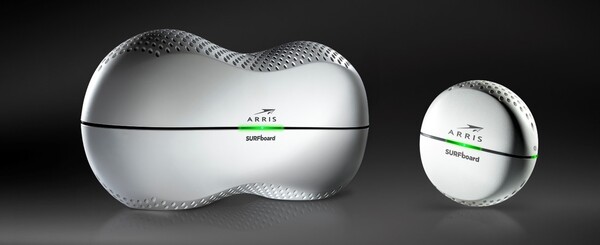 with an app, in under five minutes.
Well, guess what. The Future of Wi-Fi is here (depending on your dog). It's called SURFboard® with RipCurrent™ G.hn technology. And it doesn't just work; it works better than anything else you've ever tried.
ARRIS SURFboard with RipCurrent G.hn technology is a new family of routers and extenders from future-loving geniuses who brought you digital TV and the first cable modem gateway. We rethought the entire concept of traditional home networking to solve all the little frustrating things that have plagued your Internet experience for years.
The SURFboard RipCurrent-enabled family transforms Wi-Fi in a unique way: with wires. Our system uses Gigabit home networking technology called G.hn to build a smarter network using your home's existing wiring to create new hotspots, feed high-bandwidth devices, and lighten the load on your wireless network. As a result, we've drastically improved wireless router performance, helped completely eliminate dead zones, and put bandwidth hogs in their place.
"The reality is that everyone's home is different, making it hard for any one router to provide a fast connection in every corner of every house," said Bob Swanson, our VP of Retail Sales. "RipCurrent G.hn technology is the solution."
Our new SURFboard RipCurrent-enabled portfolio works with our ARRIS SURFboard Manager app for iOS and Android to help you set up your network faster than you can walk your dog. And it lets you tailor your Wi-Fi to your exact needs. Ever better: our system will grow with you as those needs change, letting you add more range and bandwidth with additional extenders, so that the future of Wi-Fi stays in your home, for years to come.
Pre-order your ARRIS RipCurrent-enabled devices today on Amazon (see links below), or purchase them in the ARRIS Store.
RipCurrent Routers
RipCurrent Extenders