This weekend, Carl Edwards returns to the Irish Hills of Michigan for the Pure Michigan 400,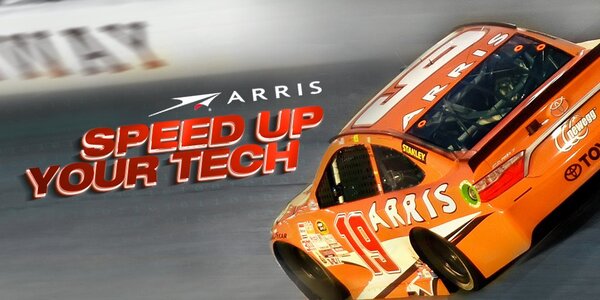 while Daniel Suárez heads to Elkhard Lake in Wisconsin to close out the Road Course portion of the XFINITY Series.
Daniel will run on Saturday, taking the #19 ARRIS Toyota Camry through its paces on the legendary 4-mile, 14-turn circuit at Road America. The road course, which comprises both left and right turns, promises to offer an exciting start to the weekend.
On Sunday, Carl Edwards will take the wheel of his #19 ARRIS Toyota Camry—wearing its new SURFboard® wrap featuring NewEgg—for 200 laps of Michigan International's 2-mile speedway. He'll be looking for a victory to add to his nine top-5 finishes and two wins at the track.
Here's a preview of this weekend's ARRIS Racing lineup:
NASCAR XFINITY Series – Road America Road Course
Daniel Suárez in the #19 ARRIS Toyota Camry
Live TV coverage: Saturday, August 27th at 3:00 p.m. Eastern on NBCSN, Sirius XM Channel 90, and MRN Radio
NASCAR Sprint Cup Series – Pure Michigan 400
Carl Edwards in the #19 ARRIS Toyota Camry
Live TV coverage: Sunday, August 28th at 2:00 p.m. Eastern on NBCSN, Sirius XM Channel 90, and MRN Radio
Carl Edwards: "I am really looking forward to the Michigan race.  The lower down force package should provide some great racing there, especially the second time around, there's a little more rubber on the track, and possibly some higher temperatures to widen out the groove.  We've been having a lot of fun. We've been fast, been qualifying well and racing well.  Michigan is a place that really tests every part of your team. You have to have great engines, which we do from TRD. You have to have great cars and bodies, which we do. The pit crew has to be on their game. My guys have been doing great lately. You have to make good calls the whole day.  Dave Rogers and I will go there and just keep doing what we've been doing and hopefully we get ARRIS a win.  I have a couple wins in the cup car and Xfinity series.  It's always been a really cool place to go.  There is a lot of pride on the line in Michigan because it's the domestic manufacturers' backyard.  If you can win there, you know you've done a good job. I would be really proud to put Toyota in victory lane."
Daniel Suárez: "We've had a tough couple of races the past two weeks, so I'm really looking forward to getting back on the track this weekend and behind the wheel of my ARRIS Camry. Road America is one of the best tracks not only in NASCAR, but in the country, so I'm really excited and looking forward to the weekend.  We've had some really good meetings this week and I think Scott and the team have a great game plan as we moved forward. We will work hard on Friday to find the right set up not only for the race on Saturday, but also qualifying on Friday evening as track position will be really important."
Good luck, Carl and Daniel!