We're at Pocono Raceway this weekend in Pennsylvania for two days of spirited racing around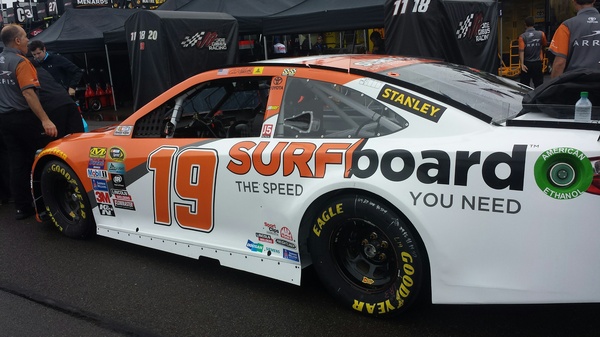 the famously tight corners of the 2.5-mile tri-oval. Carl Edwards returns to add a third to his two prior wins at the track, while this visit will mark Daniel Suarez's first start at Pocono.
Daniel will start things off in the #19 Toyota Camry in Saturday's inaugural Pocono Green 250. ARRIS Racing will host some lucky employees that day during the XFINITY series. Then on Sunday, Carl will be rocking the new SURFboard paint scheme behind the wheel of the #19 Toyota Camry in the Sprint Cup's Axalta "We Paint Winners" 400.
Here's a preview of this weekend's ARRIS Racing lineup:
NASCAR XFINITY Series – Pocono Green 250
Daniel Suarez in the #19 ARRIS Toyota Camry
Live TV coverage: Saturday, June 3rd at 1:00 p.m. Eastern on FOX, Sirius XM Channel 90, and MRN Radio
NASCAR Sprint Cup Series – Axalta "We Paint Winners" 400
Carl Edwards in the #19 ARRIS Toyota Camry
Live TV coverage: Sunday, June 4th at 1:00 p.m. Eastern on FOX Sports 1, Sirius XM Channel 90, and MRN Radio
Carl Edwards: "Pocono is obviously a unique racetrack.  It's unlike any other track we go to.  It's a real tough track to get right. I've had some success there with a couple wins.  I enjoy racing there.  It's as close to a road course as an oval can get.  It has three distinct corners, has a long straightaways and every part of the team comes into play.  You got to have a great engine, you got to have a really good setup and you got to be able to adjust.  You have to drive well and restarts are important.  When you do well there it means something, because you have to do everything right.  Hopefully we can go there and get our third win of the season.  We have ARRIS on board and we would like to get them to victory lane.  After last week we had a strong run and I had some speeding penalties, so I need to keep the racing on the race track."
Daniel Suarez: "I'm looking forward to the weekend and making my first start at Pocono in the ARRIS Camry. I've done some work in the Toyota Simulator the last few weeks to learn as much as possible, and Scott (Graves) and I have had some good meetings and I think we have a good game plan going into the weekend. Toyota Racing has been on a hot streak as of late, and I would like nothing more than to get my first win and continue their winning streak this weekend at Pocono."
Follow us this weekend on Twitter @ARRIS for updates and promos. Good luck, Carl and Daniel!