Good Beer and Good Wi-Fi Go Hand in Hand
Whether you're browsing Facebook, Instagram or Yelp, it's pretty easy to find a great brewery online. Grab a group of friends and head down to the local brewery to experience some new tastes. It's always fun to learn how the beer is made and then order a flight to taste test all the different flavors. And just to be clear— the art of pouring beer is similar to receiving good Wi-Fi. Let me explain. Pouring a beer is an art and definitely part of the overall tasting experience. You always want to drink a beer out of a clean glass, so there are no residuals from a previous beer. The glass should be held at a 45 degree angle targeting the middle of the slope of the glass. Half way through the pour, bring the glass to a 90-degree angle and continue to pour in the middle of the glass. This will induce the perfect foam head. Too many people think there should be no foam; however, with no foam the carbonation goes straight to your stomach, causing a stomach ache. When poured correctly, the foam releases the carbonation and you can enjoy your beer pain free.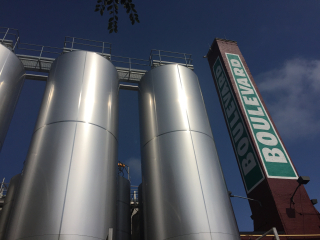 Just like pouring beer correctly, deploying the right Wi-Fi also enhances the user experience. There is nothing more aggravating than not being able to connect to Wi-Fi, no matter where you are. Customers like to share their experience via social media and employees often times rely on the Internet to complete their job. Without Wi-Fi coverage they both become upset — what a headache! Some suppliers suggest that you add more access points to get the needed coverage. Not true. That's like saying pour the beer straight into a glass—without an angle—and just drink the foam. Yuck.
Reliable Wi-Fi is a must when running a business.
Retailer,
Boulevard Brewery
located in Kansas City, Missouri, is one of the largest specialty brewers in the Midwest and hosts 6,000 people a month for corporate events, business meetings, weddings and receptions, along with accommodating tours at the venue. Its legacy network couldn't handle the amount of mobile devices hitting the network so the search was on for an infrastructure that could provide ease of use, central management, solid coverage and fast Wi-Fi. That's where Ruckus Wireless comes in.
Ruckus Wireless access points
have a patented smart Wi-Fi antenna array technology called
BeamFlex
that provides extended range and adaptive signal steering. Hence, you get the coverage needed using less APs. Just like beer—perfect foam head providing you just the flavors to enjoy. Managing the APs are two
virtual SmartZone (vSZ)
for redundancy. The vSZ platform gives the network the capability to grow and adapt to the changing needs of the business. So when beer is poured correctly, you'll avoid getting a stomachache. And when Wi-Fi is deployed correctly, you'll escape headaches. They both hurt and make you feel awful but with the right solution, you will have the perfect beer and Wi-Fi. [embed]https://www.youtube.com/watch?v=21xaRm8ab3c&t=28s[/embed]