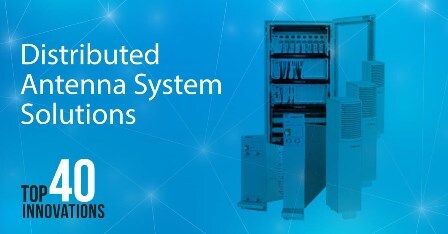 Note: we have been revealing in recent blog posts the top 40 innovations made by CommScope (or one of its acquired companies) as part of our 40th anniversary celebration. We continue today by revealing an innovation from the final grouping of innovations—the top 10—which are being announced in alphabetical order. These are our all-time greatest product and technology innovations. You can also review the complete list of innovations we've revealed so far and read more about the overall program and selection process in this November 4 post.
CommScope's Top 40 Innovations—Grouping 1-10
Distributed Antenna System Solutions
Definition: CommScope and its acquired companies have been prime contributors to the development of distributed antenna systems (DAS), achieving many firsts along the way. One of its significant innovations is the world's first fiber optic distributed antenna system (DAS), which modulated light frequency to carry a composite RF frequency over single-mode fiber, for extending wireless services inside railway tunnels, in outdoor areas and eventually inside buildings.
Year of the Innovation: 1989
What is the innovation that CommScope or one of its acquired companies was first in creating?
A DAS is basically a network of antenna nodes connected to a common signaling source via cabling, which provides wireless service within a building or in a specific outdoor area. DAS have been at the forefront of advancing wireless coverage and capacity into underserved areas for more than 20 years.
Decibel Products, which later became part of CommScope, deployed the first analog DAS in 1989 and obtained patents covering the technology. This solution allowed for the distribution of cellular signals inside railway stations and tunnels, among other hard-to-cover areas. The fiber optic delivery system used a modulator and a de-modulator to modulate the light frequency with the composite RF frequency over single-mode fiber (an early use of single-mode fiber). The first deployments were in tunnels for Bell Atlantic in Boston and Baltimore, followed by a deployment in downtown Sydney, Australia and another for Pacific Bell along the Pacific Coast Highway through Malibu.
CommScope engineer Lou Meyer recalls going on the road for Decibel Products, toting a dolly filled with DAS equipment and hundreds of feet of fiber optic cabling to demonstrate the system's long-range capabilities and overall effectiveness. Meyer would receive an off-the-air FM signal and send it over the equipment path so that customers could listen to it on a spectrum analyzer.
MIKOM and Tekmar Sistemi, which also became part of CommScope, launched analog DAS products in 1993. While other providers offered "leaky coax" solutions for wireless coverage, these companies pioneered the use of remote antennas in analog DAS solutions. Analog DAS were mainly used in large public venues, tunnels, and subway systems, but by 2001 the market was demanding more compact solutions for outdoor DAS deployments in urban cores.
In 2001, Allen Telecom, which acquired Decibel Products, MIKOM and Tekmar Sistemi and later became part of CommScope via its Andrew Corporation acquisition, debuted its Integrated Optical Network (ION) DAS solutions. The ION-M was an outdoor solution with remote units that were one-third the size of previous remote units. The ION-M used innovative heat pipes to dissipate heat from the unit so it could work reliably inside tight spaces such as streetlamps. This made the system deployable in far more places, and also made it more attractive for outdoor DAS deployments in neighborhoods where visual pollution was a concern.
CommScope's DAS lineage also includes the creation of the first digital DAS solution. In 1992, a regional wireless operator in New York City, NYNEX Mobile, wanted to extend cellular coverage and capacity in underserved areas of Manhattan as well as the Holland and Lincoln tunnels. The operator wanted to feed these cells via fiber from base stations in lower Manhattan, but the distances were beyond the reach of existing analog products. In response, ADC (now part of CommScope) created the CityCell solution, the first digital RF-over-fiber system. In 2000, ADC developed and patented the concept of digital RF summation, and rolled out the Digivance Indoor Coverage Solution (ICS), the first point-to-multipoint digital DAS. The CityCell and Digivance solutions were ahead of their time in introducing digital RF transport, now the enabling technology for the proposed next-generation cloud-based radio access network (C-RAN).
What was happening in the market that this innovation was needed?
The world has always had areas that are difficult to cover with cellular signals. The concrete of subway stations and tunnels, for example, makes them difficult to penetrate. "Leaky coax" solutions couldn't span great distances as the signal attenuated too quickly, but DAS systems could run for thousands of feet. DAS is a coverage and capacity solution which brings reliable cellular service into underserved areas.
How did this innovation benefit customers and the industry?
DAS solves the problem of not having good wireless service inside buildings and other areas. DAS is still a key tool for delivering the density and high capacity mobile operators need as they roll out LTE networks and look ahead to 5G technology. Today, wireless coverage is built around the idea of digitally transporting wireless signals, and digital DAS is a must-have in the marketplace.
Did this innovation act as the springboard for other innovations, and if so, how do they all tie together?
The ION DAS line has grown and evolved with multi-band capabilities, MIMO support, and the emergence of extension units for remote antennas that enable users to add frequencies by plugging in an extension to a remote unit instead of replacing it completely.
In 2013, CommScope innovated again by addressing the challenges of frequency leveling and installation complexity. The ION-U automatically produces a schematic of how modules should be deployed, configured, and connected in racks. It also generates a file that automatically levels the power in the system according to the base stations deployed.
As the market began turning toward enterprise DAS deployments, CommScope introduced the ION-E, which simplifies DAS installations by enterprise users. The ION-E utilizes the fiber-optic and Ethernet structured cabling architecture common to many enterprises, making it easier for IT professionals to deploy. The simple user interface enables easy setup and configuration while being flexible and scalable for future needs. The ION-E also offers advantages to wireless operators, being technology agnostic while supporting multiple operators and frequency bands.
The Digivance point-to-multipoint digital DAS solution evolved into the FlexWave Prism and FlexWave Spectrum solutions. In 2013, a division within TE Connectivity (which had acquired ADC in 2010) developed the CDIU, the world's first direct digital interface between a base station and a DAS main hub, making the all-digital radio core a reality. This part of TE Connectivity was acquired by CommScope in 2015.
What is the significance of the innovation for CommScope?
Through its acquisitions and internal development, CommScope has been a leader in the DAS business since the beginning in 1989. Today, CommScope has the largest and most robust DAS solution portfolio in the market – products that enable mobile operators and neutral host operators to expand their networks and improve customer satisfaction by delivering cellular signals in the most demanding environments.