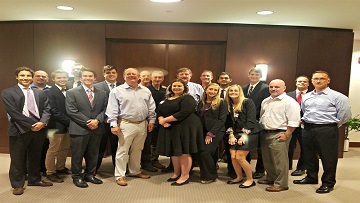 This is part of a blog series from CommScope interns. The series will share experiences from students as they apply classroom learnings to real-world challenges in the workplace.
Growing up in an age where technology has always been readily available definitely has its advantages that set Millennials and Gen Z apart from other generations. It allows us to be more innovative, productive, and easily adaptable to new technology.
One way that Millennials can be innovative is by helping a company increase their social media presence and developing a creative brand. According to a survey conducted by UNC Chapel Hill's Kenan-Flagler Business School, "1 in 3 millennials said they would prioritize social media freedom over salary when accepting a job." When allowing millennials to have flexibility with social media, they can help attract new audiences. The marketing strategies they use will appeal to their age group by incorporating marketing with major social media platforms.
CLICK TO TWEET: In this CommScope blog, a former intern explains the age of Millennials and Generation Z in the workplace.
Personal experience with my first internship at CommScope helped me see the immediate effects of social media promotion. Social media projects included highlighting blog posts, interns and company information across a variety of channels that touched multiple audiences. Blog posts were shared almost daily on Facebook, LinkedIn and Twitter. The intern program promotion used the same social media platforms as the blog posts but that was typically once a week. Lastly, one of the projects was to update the – history, numbers, dates and news on the CommScope Wikipedia page, which is one of the most commonly used resources when searching for information about the company.
The most social media exposure came from the intern promotion social media task. The goal was to promote the intern program from a millennials perspective, which in turn attracts additional interns and recruits to CommScope. Representatives from each facility shared pictures of the interns working or doing activities together. The photos were then uploaded about once a week through Facebook, Instagram, and LinkedIn describing the intern's project as well as location. Many interns and fellow coworkers said that they loved the idea of seeing pictures as "a day in the life of a CommScope intern."
My internship at CommScope under the Corporate Communications team was a remarkable internship opening my eyes to professional expectations as well as real-life experiences. I realized as companies grow, change is important and how you react to the change is crucial. I'm excited for more millennials to join the work culture, which enables CommScope's growing business to be more innovative and attractive to employees in the future.