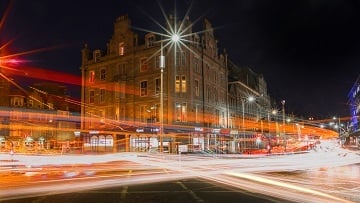 (Note: The following has been submitted as a guest post to CommScope Blogs by Scott Coates, chief executive officer, Wireless Infrastructure Group. Opinions and comments provided in this guest post, as with all posts to CommScope Blogs, are that of the author and do not necessarily reflect the views of CommScope.)
Aberdeen, Scotland's third largest city, is known as the Energy Capital of Europe. With a population of more than 229,000 and an economy that brings in 15 percent of Scotland's gross domestic product (GDP), Aberdeen is a city positioned for substantial economic growth.
To support that growth, Aberdeen City Council had a clear vision to ensure the right kind of wireless infrastructure was in place to enable a smart city to support many aspects of its citizens' daily lives. Wireless Infrastructure Group (WIG) was appointed as wireless infrastructure partner to the city in 2014 through a concession contract, and has worked with CommScope and Telefonica O2 to make that vision a reality by building the UK's first fibre-connected small cell infrastructure capable of being used by all networks.
CLICK TO TWEET: Did you know the city of Aberdeen paved the way for 5G?
Building Wireless Infrastructure to support Generation Z – the 'Always-On Generation'
CommScope's research into Generation Z, aged 13 to 22 years old, shows how wireless broadband is interwoven into the fabric of young people's lives and gives us an insight into how people will expect to interact with mobile technology in the future. The research shows that 'Gen Z' expects and values always-on/always-available internet access. They are most satisfied with their internet speed at home but moving away from home, they are less pleased, especially on the go. Living in a virtual world is frustrating when connectivity speeds can't keep up.
Every major city in the UK is thinking about the how to unlock investment in the fibre-connected small cells needed to power this kind of connectivity but in the race to be 5G ready, Aberdeen's City Council has leapt ahead by partnering with WIG.
UK's First C-Ran Network
WIG's fibre-connected small cell infrastructure has enabled Telefonica O2 to run the UK's first mobile services over a Centralized RAN (C-RAN) architecture. Starting with 4G LTE-A today the infrastructure is ready to support the move to 5G and crucially is capable of delivering service for multiple network operators.
WIG's new network in Aberdeen is based on our own newly deployed fibre, as well as innovative new product from CommScope's outdoor small cell solutions. The network uses traffic lights and lighting columns across the centre of the city covering the university, train station, football stadium and main commercial centre and further details are included in our recent press release.
Collaboration is the key to unlocking investment in 5G -ready infrastructure
Given the connectivity demands of the 'Always-On' Generation, there is an urgent need for more cities to prioritise attracting investment into new wireless infrastructure that enables street furniture for 5G and connects it with fibre. With plans to invest £1 billion in UK wireless infrastructure, WIG is committed to playing a key role in addressing the UK's connectivity challenges but we need to do this in a collaborative way, built on close partnerships with city authorities, mobile operators and valued solution vendors such as CommScope.