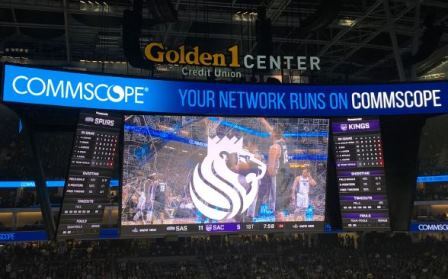 The National Basketball Association's Sacramento Kings wanted their new downtown arena to be an innovation showplace, where advanced technology transforms the fan experience completely. So they turned to CommScope to provide a leading-edge network that connects Kings fans to the game, to the team and each other like never before.
The Sacramento Kings engaged CommScope for infrastructure design assistance and validation, including future proof concepts, next-generation data center models, and efficient installation implementation. From the day it opened, the Golden 1 Center has set new standards for connectivity. The arena utilizes leading-edge technology to provide seamless and intuitive communication for 17,600 Kings fans from the moment they arrive at the arena to the final buzzer and beyond.
Golden 1 Center is also the first arena in the world to implement OM5 wide-band multimode fiber to effectively future-proof the arena. (Vivek Ranadivé, the owner of the Sacramento Kings, was so proud of this fact that he tweeted out an image of the LazrSPEED OM5 fiber cable backbone.) With an OM5 backbone that supports all of the services in the arena today, the Kings retain the capability to accommodate new technologies in the future without costly infrastructure upgrades.
Check out our new success story "Nothing but net" for more details about the Golden 1 Center's capabilities and CommScope's role in its network technology.