There has been a lot of hype around smart cities  because it promises to address many of the technology challenges cities face today. According to IDC's Infobrief, "
The Role of Public Wi-Fi in Enabling Smart Cities
," these solutions can help cities with:
Economic development
Sustainably managing strained infrastructure like roads and water
Reducing the digital divide
Meeting increasing resident, visitor and business expectations for a fully connected mobile experience
City leaders are embracing the concept of smart cities because it promises to deliver a new way of living through innovative technologies, solving some of their biggest challenges from transportation to waste management, streetlights and much more. Smart cities will leverage technologies from the so-called Internet of Things (IoT), where 'things' are built around various types of sensors and connected to the Internet through connectivity options including Wi-Fi, ZigBee, Bluetooth Low Energy (BLE), LORA and others.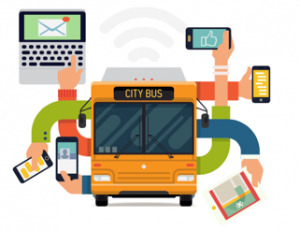 Each of these wireless technologies have their own unique advantages with no one protocol as the standard for IoT. Because there is no one ultimate standard, some city technical leaders are holding off on their smart city planning until the market determines the winning connectivity option. City leaders are certain that despite the various connectivity options, building a wireless network is the first step towards becoming a "Smarter City." To automate any process and transfer information, there is a need for networks across the entire city. The success of Wi-Fi technology has encouraged many city administrations to look at ways to build citywide Wi-Fi coverage—helping connect various systems from transportation to waste management, city lights and more. According to
IDC's Infobrief
, Wi-Fi connectivity provides the foundational layer for a smart city and other benefits including:
Providing an amenity for residents, students, visitors, and tourists: people expect to be connected at all times and this does not diminish when people are within city limits. Wi-Fi helps cities meet the expectations of all people.
Bridging the digital divide: over 30% of the global population is still without Internet access. In today's digital economy, it is imperative that anyone who wants Internet access should be able to obtain it. Wi-Fi can help cities bridge this digital divide.
Enabling IoT services: as previously stated, IoT will be huge. However, the IoT market is fragmented and placing bets today on which technology to implement can be risky. Wi-Fi not only supports some IoT applications itself but can also be an enabler of IoT solutions by supporting multiple IoT wireless technology.
Wi-Fi is a technology that is here to stay with proven technology. Wi-Fi provides cities today with many benefits including connectivity, data and other insights to make it smarter. Public Wi-Fi is now and will be here in the future. As one of the most widely deployed Smart City use case, it is a great first step for cities to becoming 'smart.'