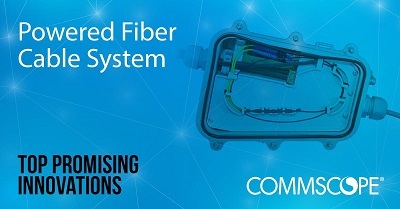 Last year, we unveiled our top 40 innovations made by CommScope or one of its acquired companies. This recognition was part of our 40th anniversary celebration. We are proud of all our innovations—past and present. Now, we look to new innovations that we hope will become the essential building blocks for the networks of the future. In a series of blogs, we will introduce you to our Top Promising Innovations in the world of wireless and fiber optics. We believe these innovations have the potential to have significant impact on the industry, much like some of the others from our past.
Powered Fiber Cable System
Definition: A Powered Fiber Cable System incorporates DC power and fiber-based Ethernet connectivity in one cable – it's everything a customer needs to be able to install Power over Ethernet (PoE) equipment at distances much longer than the PoE standard allows, without having to do any calculations or design work. The Powered Fiber Cable System extends power to a device (Wi-Fi access point, IP camera, or small cell, for example) at a distance of up to two miles.
Year of Innovation: 2015
What is the innovation that CommScope was first in creating?
The Powered Fiber Cable System incorporates two innovations: one is a new hybrid cable that combines power (copper) and data connectivity (fiber) in one cable housing, and the other is the use of a small device used with that cable, called the PoE Extender.
Hybrid power/fiber cables have been on the market for a few years, but they are bulky, expensive to terminate, and they require experts to deploy. CommScope's Powered Fiber Cable System uses cable that is like an FTTH drop cable, and can be accessed in 30 seconds by standard networking technicians without special tools.
The PoE Extender tackles other deployment issues. CommScope engineers incorporated something new in the circuit world – cheap and highly efficient DC-to-DC electrical conversion to automatically eliminate the voltage drop in the system. The Powered Fiber Cable System automatically manages the electrical voltage drop, eliminating the need for electrical calculations. This system innovation makes the cable less expensive and faster to deploy, and the electronic component innovation eliminates design headaches for the customer.
What was happening in the market that this innovation was needed?
There is a massive shift toIP technology in the market. For example, surveillance cameras are moving away from CCTV and toward IP, and there are an increasing number of Ethernet-connected devices such as Wi-Fi access points being deployed both indoors and out. Hybrid power/fiber cable solutions existed in the market, but they required extensive engineering to implement and they required electricians to terminate power at the cable end. Customers such as airports, universities, enterprises, and military bases were looking for an easier and more cost-effective way to deploy remote PoE devices such as IP cameras, Wi-Fi access points, and telco small cells.
With the broad introduction of telco small cells delayed by the limited frequency-handling capabilities of these devices, the enterprise/university/airport markets were the earliest buyers of the Powered Fiber Cable System. These organizations needed to deploy thousands of IP cameras and Wi-Fi access points in remote locations, but didn't want to have to engineer each connection, and in any event these custom-engineered solutions posed reliability problems.
How does this innovation benefit customers and the industry?
CommScope's Powered Fiber Cable System eliminates the need for complex custom engineering for each connected device, as well as the need for expensive electricians to terminate cables at devices. It operates within SELV and NEC Class 2 limits, eliminating the need for electricians and dramatically reducing the cost of deploying remote cameras, access points, small cells and other devices. It can be very costly to hire electricians to install AC outlets and AC/DC converters in hundreds of awkward locations where remote devices are required, whereas the Powered Fiber Cable System automatically provides the DC power needed, so it doesn't require converter devices. The Powered Fiber Cable System also incorporates fiber-to-copper media conversion, so it speeds up the design work and makes the overall solution more reliable.
What makes this a promising innovation for future networks and customer applications?
At CommScope, we see an increasing number of devices on the market – IP cameras, Wi-Fi access points, small cells, and others. As we see these new devices come onto the market, we're working on new versions of the Powered Fiber Cable System that deliver more power and/or faster connectivity over longer distances to address future applications. The hybrid cable delivers backhaul and power to all of these remote devices and the backup power can be centrally located. It opens up the doors for enterprises to install all of these devices in cases where it would have been impossible or prohibitively expensive to do it before.
What are some of the early marketplace successes for this innovation?
The University of Tennessee has security cameras and Wi-Fi access points, and they are using the Powered Fiber Cable System to connect these remote devices on their campus. Other universities are also deploying the system, and large enterprises are looking at it for campus deployments. There are also military base deployments where rapid deployment is important, and customers are also using the system for parking decks and to connect cameras and entry gates in prisons.
What is the significance of the innovation for CommScope?
The Powered Fiber Cable System is a great showcase for CommScope's extensive capabilities in fiber cabling, cable, and power and media conversion systems. We see a greater overall trend toward an ever increasing amount of devices requiring both power and communication, ever deeper into the networks, both in enterprises and among service providers. The Powered Fiber Cable System makes CommScope a leader in connecting those systems with a combined system that delivers power and connectivity. The ability to distribute DC power around buildings will be increasingly important in the enterprise, and CommScope becomes a leader with this innovation.
Does the innovation follow any established industry standards or do you believe it might set a precedent for its own?
One of the big differentiators in this solution is that it supports all existing industry standards for power and connectivity. Other solutions on the market are proprietary and require extensive engineering to be made to work with standard PoE devices. The Powered Fiber Cable System stays within the limits of all domestic and international standards for equipment power levels that that don't require an electrician. With this product, CommScope also adhered to all IEEE communications standards for PoE and optical fiber cable.
How do you see this innovation evolving?
We see this innovation evolving over time to support longer distances, higher bandwidth, and higher power levels. CommScope will continually evolve this solution portfolio to support new devices and applications. We also expect that there will be multi-port versions of the Power Fiber Cable System, which currently supports only one connection per cable. We will also support the new 802.11ac Wave 2 access points that need up to 6.9 Gbps connectivity as well as 60-watt devices like remote pan-tilt cameras with built-in heaters.