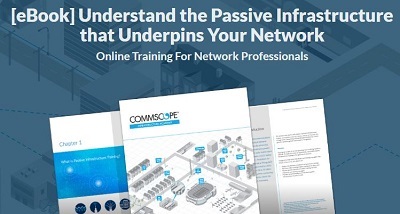 By 2020, experts predict that between 20 and 30 billion devices will connect to networks thanks to the Internet of Things (IoT). For anyone who works with passive network infrastructure (i.e., cables, connectors, antennas, panels, shelves or frames), this is huge news because it presents substantial opportunities for career growth, knowledge acquisition, and training.
What is Passive Infrastructure?
Passive infrastructure can also be called transmission media or physical layer. Whatever term you use, how data gets from A to B relies on the infrastructure technology used; whether it's in an:
Office building
Multi-dwelling unit (MDU) or single family unit (SFU)
Stadium, arena, or campus
Central office, head-end or data center
The many types of wired or wireless outside plant (OSP) networks
The term passive infrastructure denotes the widest possible coverage of transmission media used in networks today – copper (twisted pair and coax), fiber optic, RF wireless and microwave. As the name suggests, the focus is on the parts of the network often hidden in the wall, underground or above the streets, rather than the "active" components of a network that often get the most attention. Passive infrastructure training is designed to provide students a firm grounding in the connectivity used to and from active devices on a network.
Are You Prepared?
Without access to a complete range of passive infrastructure training, adapting to a continually changing and evolving market is hard. The first eBook from the CommScope Infrastructure Academy explores why passive infrastructure is important, what training is available for network professionals, and how easy it is to access it online.
Created to help individuals and training managers succeed in a growing and evolving environment, the eBook explores:
The main benefits of passive infrastructure training
How online training makes staying up to date easier
Specific training benefits that both individuals and training managers can expect
Recommendations on the best passive infrastructure courses to take
Get your copy of the eBook to better understand the passive infrastructure that underpins your network, and start making the most of the career and business opportunities that education in this area presents.