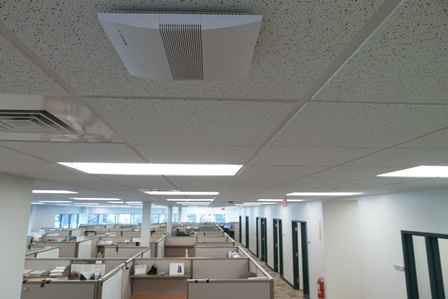 Commercial office buildings continue to go through a very disruptive time. Workplace designs and layouts are all being challenged in the attempt to provide workspaces that are best suited to today's workers. The Internet of Things continues to drive a massive amount of new IP-based physical devices to be installed and connected. Connecting and powering these different devices is quite a challenge. And there is another trend that is becoming critical in the building space because it directly impacts employee productivity—Indoor Mobility.
"Mobility everywhere" means that there is a universal expectation that wireless connectivity will be available throughout the building, not just in certain areas. Workers usually don't care whether their wireless connection for data is via the Wi-Fi network or a cellular network—they just want voice and data connectivity and performance. Since most enterprises need to provide both types of wireless technologies, their infrastructure must accommodate both.
While there are multiple ways to deploy a wireless infrastructure in buildings, the global trend is tilting toward an IT-based infrastructure that accommodates the new generations of Wi-Fi and in-building wireless (IBW) systems such distributed antenna systems (DAS) or small cells.
Wi-Fi: As Wi-Fi standards continue to evolve to higher throughputs (the second wave of 802.11ac, WiGig 802.11ad and beyond), the cabling that connects Wi-Fi access points to switches must support higher backbone speeds, including 2.5 Gbps, 5 Gbps and, ultimately, 10 Gbps.
DAS: Recent advances in DAS have helped the technology scale to better serve larger office buildings and enterprises. For example, CommScope's ION-E uses compact head-end equipment and an all-digital fronthaul to enable it to operate over structured cabling. This class of solutions is sometimes referred as Enterprise DAS.
Small Cells: A similar situation as DAS occurs with small cells. For example, in C-RAN small cells like CommScope's OneCell, multiple distributed radio/antenna devices are connected to a centralized baseband unit, using structured cabling systems and PoE, providing a wireless coverage solution on standard IT infrastructure.
With wireless connectivity now a requirement for buildings, deploying the right infrastructure with the right design approach is critical to supporting the most demanding wireless applications. CommScope's Universal Connectivity Grid (UCG) provides a common architecture comprising high performance structured cabling and connectivity that enables Wi-Fi and cellular systems as well as supporting wired LANs and other applications. Based on a zone or grid pattern, rather than a desk or device-centric connectivity approach, the UCG is designed to provide optimal connectivity, capacity and flexibility within a building.
If you want to learn more about supporting mobility in the enterprise, register for the free "Enterprise Wireless Applications and Technologies" webcast on February 2 hosted by Cabling Installation and Maintenance. CommScope's Jason Bautista will go into greater detail about the Universal Connectivity Grid for DAS, small cell and Wi-Fi networks. His presentation will help in selecting the right cabling media types (twisted-pair, singlemode and multimode fiber) as well as the architecture that can be used as a backhaul for DAS and Wi-Fi connectivity.