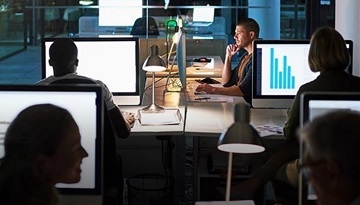 This blog post is part of a series called "CommScope Definitions," in which we will explain common terms in communications network infrastructure.
All IT managers are seeking ways to simplify their networks. The Power over Ethernet (PoE) standard (IEEE 802.3) is one such simplification that was introduced by a working group of Institute of Electrical and Electronics (IEEE) engineers in 2003. PoE is a revolutionary concept which allows power to be delivered on the same twisted pair cable that is being used for communication, instead of laying a separate power cable to the network device. This technology was initially used for supporting Wi-Fi access points which are mounted in ceilings or walls.
The original IEEE 802.3af-2003 PoE standard provides up to 15.4 W of DC power. Of this, only 12.95 W is available at the end of 100 m at the powered device as some power dissipates in the cable. Subsequently, an updated IEEE 802.3at-2009 standard introduced PoE Plus which provides up to 30 W of PSE power with an assured power of 25.5 W at the end of 100 m to the powered device. This update by IEEE has opened doors for many other devices including surveillance and monitoring equipment that can be powered using PoE Plus.
CLICK TO TWEET: Learn the definition of PoE from CommScope.
This also led to questions around whether or not this technology could be used for powering other high-end network devices such as point of sale systems, kiosks, terminals and a variety of other devices, including security card readers and LED lights. With the IEEE 802.3bt standard, this could become a reality with up to 90 W of power sourced from the PSE and delivered over balanced twisted pair cables.
Despite increased power efficiencies using Category 5e or Category 6 cables, there are potential implications around heating. However, this can be overcome by the adoption of Category 6A cables which typically offer less cable heating under high-power PoE applications. CommScope's GigaSPEED X10D exceeds the Category 6A standards defined by the TIA Standard and imVision® Automated Infrastructure Management helps to manage the PoE infrastructure by keeping track of the power carried by each cable and each bundle.
Other factors that need to be considered when contemplating the use of PoE include:
Bundle size configurations
Spacing between the bundles for airflow
Connectors and cords being used in the channel
Pathway and channel lengths
Each of these considerations plays a significant role in designing an efficient and robust PoE infrastructure. With the newly anticipated standard, it is interesting to note that many of the IP applications located in the ceiling such as LED lighting, fire alarm systems, and occupancy sensors, will get a new lease of connectivity where providing and maintaining a power source proved to be challenging.
The ceiling has always been an area that is hard to access, therefore solutions addressing these challenges facilitate the design. CommScope's Universal Connectivity Grid (UCG) and Ceiling Connector Assembly (CCA) field terminated connector can greatly simplify the installation process for the customer.