Gigabit LTE has arrived! Most major smartphone manufacturers have launched Gigabit LTE devices, including Sony, Samsung, HTC, LH, Sharp, and Huawei—with more certainly to come. For data-hungry, speed-starved end users, there appears to be a critical mass of mobile devices able to access and keep up with the new, faster 4G technology. For the mobile network operators (MNOs) that can support it, the new technology promises more efficient use of network resources and improved traffic management.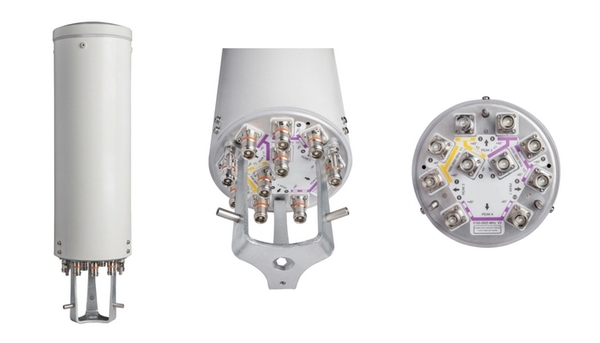 The "what" of Gigabit LTE—carrier aggregation, 256 QAM, 4X and 8X MIMO—sounds straightforward. The tough part is the "how." Creating the infrastructure to support all three requirements can seem difficult. Focusing on a single aspect of the infrastructure—the antenna—can help you see the problem more clearly and solve it more easily.
A closer look
The first requirement for Gigabit LTE is having enough spectrum—contiguous or noncontiguous—to support carrier aggregation. The FCC recently announced conditional access to bandwidth in the 3.5 GHz citizens band radio system (CBRS) and through licensed-assisted access (LAA) to the unlicensed 5 GHz band. This frees up plenty of extra bandwidth, especially in the less congested unlicensed spectrum. According to ABI Research, "The wide availability of unlicensed spectrum can make gigabit LTE deployable over the next year by 90% of the world's operators with just 10 MHz of licensed spectrum."
CLICK TO TWEET: The wireless network's ability to support Gigabit LTE depends, in large measure, on antenna selection.
Secondly, carriers must be able to pack more bits into each signal. 256 QAM can deliver the spectral efficiency needed. However, higher order modulation schemes are significantly more sensitive to noise and interference. 256 QAM requires a signal-to-interference-plus-noise ratio (SINR) greater than 30 dB.
The last requirement for Gigabit LTE is support for at least four separate data streams between the base station and mobile device, thus 4X multiple input-multiple output (4X MIMO). 4X and 8X MIMO take advantage of spatial multiplexing, which, in turn, depends on very high channel quality.
With ample spectrum now available, the key obstacles for MNOs—support for 256 QAM and 4X MIMO—are both hardware related.
Importance of antenna selection
When you get right down to it, the network's ability to support Gigabit LTE depends, in large measure, on antenna selection. Antenna specifications, capabilities and pattern characteristics play a key role in maintaining a signal-to-interference-plus-noise ratio (SINR) that supports 256 QAM, and enabling the spatial multiplexing needed for 4X MIMO. Consider these few examples:

At the same time, MNOs are focused on the near future and putting the pieces in place to support 5G. That means ramping up cell densification using metro cells and other small-cell solutions, planning for additional licensed and unlicensed spectrum, and looking to increase capacity wherever possible. Considering the immediate and imminent demands on network infrastructure, what capabilities should you look for in your antenna solutions? Here is CommScope's take (in no particular order):
4X MIMO for low and high bands: We've already noted the importance of 4X MIMO support. Cost and antenna siting issues suggest the need to support 4X MIMO in the high and low bands on a single antenna. This added functionality also aids in reducing interference. With the proper array spacing, 8X MIMO can be implemented to further improve spectral efficiency.
Support for additional spectrum: This is critical in order to take advantage of carrier aggregation and enable use of multiple traffic lanes, especially in the unlicensed spectrum.
Beamforming: Beamforming represents the next level of antenna beamwidth optimization. It improves channel SINR and, thus, enables higher throughputs.
Narrowbeam options: As MNOs focus on localized urban and suburban environments, the ability to deploy more precise, high-capacity coverage will become more important. Narrowbeam technology addresses this need while reducing signal interference and allowing operators to take advantage of sector splitting.
Compact urban footprint: Increasing cell densification in heavily populated urban areas is driving deployment of small form factor solutions like metro cells. This will accelerate as operators continue to build out in preparation for 5G. The smaller the antenna/radio footprint, the more deployment options you'll have.
Best of all, antennas capable of supporting Gigabit LTE and even higher rates are available now. These include six different families of 4X MIMO-enabled antennas, advanced metro cell antennas supporting 3.5 and 5 GHz, and narrowbeam antennas from CommScope. To learn more, take a look at our 4X MIMO antenna family. Or watch this video of CommScope engineering fellow Marty Zimmerman explaining how advanced metro cell antennas significantly increase capacity.