In part three of our Unleashed blog series, we discussed how small and medium businesses (SMBs) can use the
Ruckus Unleashed mobile app
to
monitor and manage their access points
(AP) from anywhere in the world. More specifically, the Unleashed mobile app enables SMBs to see how many clients and APs are connected,
monitor ongoing network traffic
, observe which applications are using the most data on the network and view critical alerts at a glance.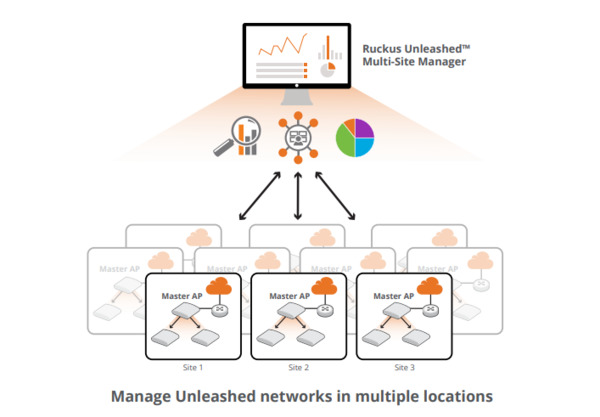 In this Unleashed blog post (part four), we'll take a closer look at the
Ruckus Unleashed Multi-Site Manager (UMM)
, which offers SMBs more advanced options for managing multiple Unleashed networks deployed in various geographic locations.
Key Features
The
Ruckus Unleashed Multi-Site Manager (UMM)
– which supports up to 1,000 Unleashed networks or a total of 10,000 APs – is designed to provide a 'single pane of glass' view to manage Unleashed networks deployed across multiple locations. It provides intuitive and customizable dashboards that display near real-time insights about connected access-points and clients, along with detailed geographic (map) views of network activity. The
Ruckus Unleashed Multi-Site Manager
also enables SMBs to create customized reports and alerts, as well as easily perform key administrative tasks such as the creation of role-based access and management of SSL certificates with a simple click of the mouse. SMBs can also create custom device groups and perform administrative tasks for/on a specific group. In addition, UMM enables users to build a database backup file with relevant site configuration data – and easily replicate the network at another site with a 'cookie-cutter' backup file. Let's take a closer look at some of our key UMM features below:
Dashboard – Provides SMBs with a near real-time view of connected APs and clients, along with the distribution of client operating systems. UMM customizable dashboards display comprehensive Google Map views of all Unleashed networks, as well as a detailed and pinpointed list of recent events. All information is color coded, enabling SMBs to quickly gain a holistic view of connectivity status, signal quality, client throughput data, the number of networks, as well as connected APs and clients.
Reports – Creates detailed and customizable reports about APs, WLANs, client connectivity trends, rogue APs or mesh changes within a specified date range. These can include customized graphs that display bandwidth utilization per application or per user, AP airtime utilization and APs with the most associated clients. UMM also generates service-centric agreement graphs and reports that list percentage uptime for AP groups and specific clients, backhaul uptime and client potential throughput. Additional reports include connection and association, user action audits and system logs.
Single Sign-On – Drills down into individual Unleashed networks. Meaning, SMBs only need to sign into Unleashed Multi-Site Manager once – without having to know the assigned credentials for each network. It should be noted that UMM also supports multi-tiered management access (RBAC) and secure access with remote SSL.
Network Upgrade – Schedules an upgrade of all devices across multiple locations. Allows SMBs to conveniently create groups of devices and plan upgrades of groups.
NAT Traversal – Accesses all the Unleashed networks as a central management system. More specifically, SSH tunnels are established between UMM and the APs behind the NAT server.
Ruckus Unleashed: Making Wi-Fi Easy for SMBs
SMBs are demanding fast, reliable and always-on connectivity for dozens or even hundreds of connected devices. However, small and medium businesses often lack the budget, time and in-house resources to install and manage complex Wi-Fi deployments. This is precisely why we are making Wi-Fi easy for SMBs with
Ruckus Unleashed
. Our controller-less, high-performance and
affordable portfolio of access points (APs)
can be installed and up and running in five minutes or less. Unleashed also enables anyone to manage their network from an
intuitive mobile app
or
website browser
, while the
Unleashed Multi-Site Manager (UMM)
supports up to 1,000 Unleashed networks or 10,000 APs for SMBs that manage multiple networks in disparate geographic locations.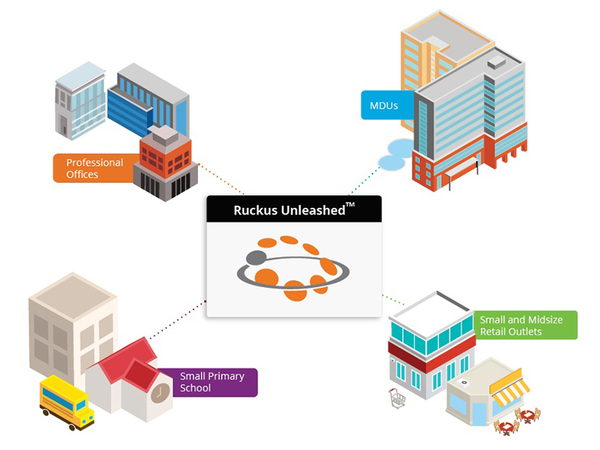 Essentially, the Ruckus Unleashed Multi-Site Manager (UMM) – which supports up to 1,000 Unleashed networks or a total of 10,000 APs – is designed to provide a 'single pane of glass' view to manage Unleashed networks deployed across multiple locations. It provides customizable dashboards that
display near real-time insights about connected access-points
(APs) and clients, along with map views of networks and recent activity. Moreover, the Ruckus Unleashed Multi-Site Manager enables SMBs to create customized reports and alerts, as well as easily perform key administrative tasks such as the creation of role-based access and management of SSL certificates with a click of the mouse. Interested in learning more about Ruckus Unleashed for SMBs? You can visit our
Unleashed product page here
, download our
Unleashed data sheet here
, access our
Multi-Site Manager data sheet here 
and download the Unleashed mobile app for
Android
or
Apple iOS
. For more information on SMB Wi-Fi, please read the other articles in the series: