The federal government has struggled in recent years to accommodate the massive societal move toward mobile. Employees increasingly feel like they should be able to use their personal devices – BYOD - to accomplish the mission. But it's unavoidable that increased mobile usage also increases the mobile cybersecurity risk faced by agencies. At many agencies, security and ease of use are being presented as an "either-or" situation. Some agencies try to ban BYOD completely, while others implement onerous security policies that frustrate employees. New research sponsored by Ruckus Networks bears this out. Results from a recent poll conducted by the Government Business Council highlight employee dissatisfaction with current security policies and the poor user experience relating to those policies: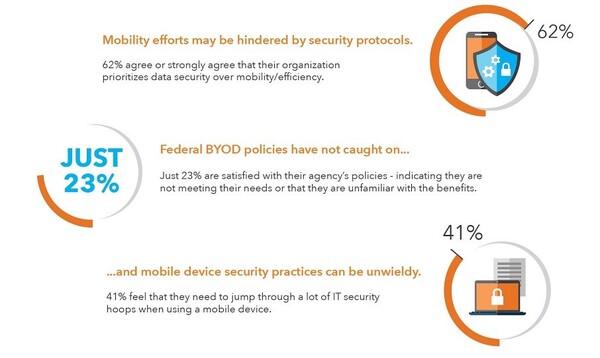 Federal employees are not passively accepting these frustrations – which can lead to even more serious security issues. According to a recent report from the mobile security firm Lookout,
72 percent
of federal employees admit to
connecting their personal devices to federal wireless networks
, and 74.5 percent have downloaded unapproved applications over federal networks to get work done. Clearly, the status quo is not working from a productivity or cybersecurity standpoint, for agency IT teams or federal end users. But here's the good news - new wireless technology allows agencies to meet these security challenges in a far more efficient and economical way.
Effective mobile security and a better end user experience don't have to be mutually exclusive
. These newer systems allow for a great amount of end-user self-service, reducing the workload burden on agency IT teams. An example is the Cloudpath
TM
Enrollment System from Ruckus Networks. Cloudpath
TM
is advanced software that delivers
secure network access for any user
, and any device on any network, delivered as-a-Service. Cloudpath
TM
allows end users to provision their own devices for network access, which means reduced trouble tickets relating to access problems Cloudpath
TM
secures every connection with WPA2-Enterprise,
protecting data in transit
between the device and the access point with powerful encryption. IT teams gain visibility and control over which devices are on the network, and can define and manage policies so that every user sees only the network resources that they should see. It also integrates with leading MDM and NAC solutions, complementing and enhancing an agency's mobile security posture. The software also checks the security posture of devices during onboarding to ensure that they comply with an agency's security policies. The system redirects users with noncompliant devices to remediate them before granting access. It associates every device with a user, and IT can easily revoke access at any time—for example when a BYOD user leaves the organization. That's the kind of technology that will improve security AND help federal workers accomplish the mission.