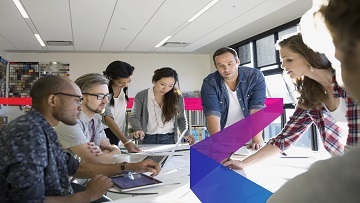 We talk a lot about innovation within CommScope. It's one of our core values and it's vital to the long-term success of our business, our industry and society.
Make this personal by looking around you. Every day we, and the things around us, are getting more connected. For example, consider the automobile. Years ago, the engine would include a few sensors that could indicate a malfunction of some kind. Today there are hundreds of data points recorded each second; tomorrow all that data and more will be sent from the car via a network to be analyzed and returned.
CLICK TO TWEET: Morgan Kurk explains why CommScope's top Patent Power Ranking from IEEE Spectrum matters to you.
Much of the world relies on an omnipresent data network for daily life. Our recent Gen Z Tech Intimates research provides some fascinating insights into how one slice of the global population views connectivity. (Hint: It's really, really necessary!) Technology—and the networks that enable it—is embedded more deeply in our daily lives, economies and entertainment than we ever could have imagined, and it will only get more integrated from here.
We work hard at CommScope to enable that connected lifestyle. And we focus heavily on innovation as a way to lead that charge.
A widely respected technical engineering magazine recently ranked the CommScope third in the communications and internet equipment sector based on the quality and size of patent portfolios. In the IEEE Spectrum's 2017 Patent Power Scorecard, CommScope only trailed industry giants Qualcomm and Cisco and finished ahead of other noteworthy industry names and competitors (see chart below). In addition, CommScope ranked 47th overall among all companies in all industry sectors worldwide in terms of patent portfolio strength, alongside companies such as Toyota, 3M, Johnson and Johnson, AT&T and Boeing. This is a significant, demonstrable movement from several years ago, indicating that our focus on innovation is really paying off.
The Patent Power Scorecard ranking is based on an analysis of U.S. Patent and Trademark Office records through the end of 2016, and used a formula that includes the number of 2016 patents a company filed, whether patent activity is increasing, the impact of an organization's patent portfolio on subsequent technological developments, and the originality and general applicability of those patents.
The new Patent Power Scorecard suggests:
CommScope's patent activity is increasing, with an ongoing commitment to innovation.
The patents in CommScope's portfolio have relatively significant technological importance.
CommScope's patents more often protect radical new inventions as opposed to incremental inventions, and thus have a high level of originality.
Why should you care?
The network technology ecosystem continues to reinvent itself. As important as the innovations from the past have been, it is expected that tomorrow's ideas will be even more transformational. Network operators face a scaling issue with exponential data growth. They continue to face cost and speed challenges with designing, installing, optimizing and operating communications networks. And they still need to find ways of minimizing their energy consumption while supporting the latest consumer applications.
Over the years, innovations have made network installations faster and more efficient, lowered costs and provided more usable bandwidth. Without them, the industry would not have evolved into the dynamo for economic growth as it has.
In addition, intellectual property scoring is an expression of the greatest asset a company can possess—thinking human capital. Over the last few years, CommScope has greatly improved the development of its intellectual property with its focus on innovation. As we have challenged everyone to think differently, to solve the fundamental customer problems that really matter, the idea wellspring has been opened.
Once enabled, the drive to innovate grows as there becomes line-of-sight to tangible results. At CommScope, we see this not only as an opportunity to create value for our customers and shareholders, but a huge opportunity for employees to express themselves and to have a place to come that is more dynamic, more open and more rewarding than ever before.
And that is good not just for CommScope, but for the industry as a whole—and especially for our customers.