Champagne, caviar, and yes—Wi-Fi. When you're in the market for buying a yacht, every little detail counts to ensure the best quality experience in ownership.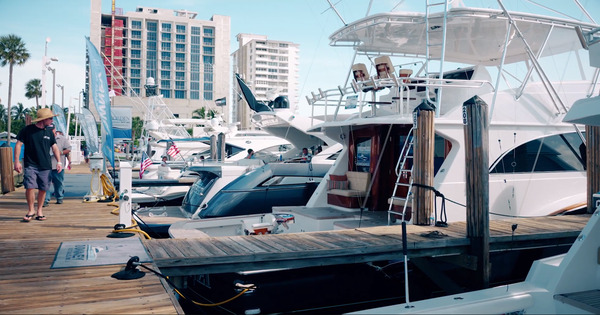 If you've ever put on an event, you understand the challenges that can incur. However, most events don't deal with high tide, hurricanes, manatees eating wires and tons of RF interference that take place when preparing for a boat show. As Vladimir Danylyshyn, IT director at Informa puts it, "It's like a broadcast storm." I had the privilege of attending the five-day Fort Lauderdale International Boat Show (FLIBS) which is the largest boat show in the world. Every year, FLIBS exhibits a vast array of the industry's latest boats and yachts of all sizes plus a medley of marine products and accessories to enhance the nautical lifestyle. Lots of preparation is done in advance to ensure a high-quality show. When I say preparation---I mean everything. From organizing exhibitors, culinary dining, ticket sales, building docks that don't exist to structures that hold the Wi-Fi solution creating seamless coverage anywhere at the event. That's not an easy task when you have RF interference coming from the yachts, hotels, apartments, and homes all around the waterfront. Informa Exhibitions has worked hard over the years with partners QxC Communications, Inc., Ruckus Networks and GoZone to find the perfect solution to provide customers with the ultimate experience.
The backbone of the show starts with the Ruckus Wi-Fi solution. Using Ruckus' outdoor wireless access points (APs) and placing them strategically around the event, the industrial-grade APs are built to withstand harsh outdoor conditions while delivering optimal throughput and extended coverage in the dense environment.
Because I was at the event, I could see firsthand how well the Wi-Fi worked to experience the speed and reliability—it was flawless. Onboarding was made easy with GoZone's platform and the FLIBS app gave the exhibitors all the information needed. This five-day event is nothing less than spectacular.
The only question left is, what yacht or boat would you like to purchase?
Take a look at the Fort Lauderdale International Boat Show video to learn how Ruckus has partnered with Informa, GoZone and QxC to create a top-notch event with reliable Wi-Fi.