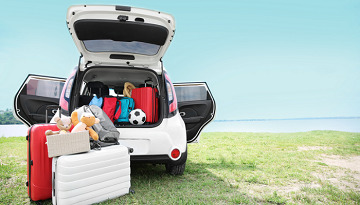 Ah, summer vacation time. Where are you going and how will you get there? Believe it or not, choosing between deploying single-mode and multimode fiber optic cable is much like debating whether to drive or fly for a family vacation.
CLICK TO TWEET: CommScope's Jennifer Duits compares deploying single-mode and multimode fiber to flying and driving on your vacation.
When deciding on whether to drive or fly, you need to consider several things:
How many people are going? Will anyone join us along the way?
What is the fastest route to our destination?
How much will this vacation cost and can we stick to a budget?
What will the travel conditions be like?
How comfortable will we be during the trip?
What kind of vacation is it? Do we need to bring extra luggage?
If you can answer all these questions, then you can make an educated decision and continue planning the rest of the trip like lodging and what you will do when you get there. When deciding between single-mode and multimode fiber, similar criteria applies. For example:
What is the required bandwidth? Will you need to adapt for network growth?
How far will your signal need to transmit?
What is your project's budget?
What kind of environmental factors will you face?
How important is routine maintenance to you?
What protocol will it be used for (i.e., Ethernet, PON, SONET, etc.)?
Let's take a closer look on how each measure up.
Fly with Single-mode Fiber?
When comparing fiber, single-mode, much like flying, goes the distance. Based on our Fiber Performance Calculator, single-mode fiber can be used in distances up to 10 km (37.36.2 miles) for certain Ethernet protocols. Multimode fiber is limited in its reach. The reason behind the long-distance transmission in single-mode fiber is the small core of the fiber only propagates a single mode of light. With multimode fiber, modal dispersion becomes the governing factor in determining distance.
Single-mode fiber is also like flying in the respect that it costs more. You pay for the ability to have one long run of fiber just like you pay for a non-stop flight. The last comparison is that single-mode fiber is like driving to your destination. It has flexibility for the future growth or adaptation. Single-mode fiber can be used in Passive Optical Networks (PON) where multimode fiber cannot. It is an easy way to increase your bandwidth while lowering future deployment costs. That way if a long, lost cousin joins you at the last minute, then you can easily fit him/her into the family "truckster" and not have to buy another plane ticket.
Drive with Multimode Fiber?
For the most part, multimode fiber aligns with the decision to drive. It is great for short distances—between 300 and 400 meters (328 and 438 yards)—and is a low-cost alternative. If you only need a short run of fiber between buildings, then multimode fiber is the right choice.
Multimode has a bonus feature of being easier to maintain. Due to the larger core size, it is less-sensitive to dirt and the environmental elements.
Multimode may not be compatible with PON components, but it is preferred when you have an Ethernet protocol. With bandwidth supports the need of 100G and beyond, multimode is ideal when the network is needed for Ethernet. One drawback to using multimode; you are limited to that bandwidth and cannot increase it if you need it in the future. In other words, once you buy your plane ticket, you'll need to buy another one at the last minute if that cousin decides to join you.
Back to Campus
Even though the decision to drive or fly on vacation (i.e., deploying single-mode or multimode fiber in your network) has the overarching goal of leaving your everyday campus environment, the decision between the two is more applicable within this particular set up. Usually single-mode and multimode fiber are used in combination with each other in a campus environment.
When deciding to deploy either single-mode and multimode fiber within a campus environment, it will depend on where the fiber is being placed and if there are any special considerations. The typical rule of thumb is use multimode fiber when you can and single-mode fiber when you must. So, if you get lost or take a wrong turn when planning your campus fiber environment, stop and ask for directions. We'll help you.