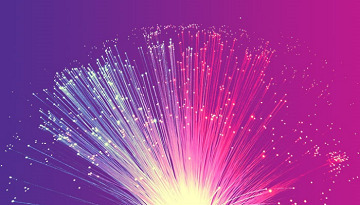 In today's world, there never seems to be enough time. Whether it is a working mother of three like me bouncing from the professional world to Mother of the Year (feel the sarcasm?) or my retired parents whose calendars are full, time has become a luxury. If you are an installer on a jobsite, then time can mean the difference in a satisfied or dissatisfied customer. You can miss, meet or exceed expectations based solely on time.
When selecting fiber connectors for a job, a lot more than the price can cost you. Several criteria must be considered and here are a few:
Which type of technology to use?
What is the true cost of the connector?
Are special tools or training required?
What is the quality of the termination, aka performance consistency?
How much time will it take?
When looking at which connector technology to use, you need to evaluate your customer's priorities to consider cost, time and performance. Cost is an easy factor to look at and its importance depends on the budget for the job. In a large project where the budget has some flexibility, the connector's cost may not make a difference. If you have a project where the budget is tight, the cost could be what keeps your project on target.
CLICK TO TWEET: CommScope's Jennifer Duits explains several fiber optic connector criteria you should contemplate for the right job.
There are some technologies (mechanical splice and fusion splice-on connectors) that are designed to save you time. That time is only saved if you are comfortable with those technologies and/or are willing to invest the time to get training. Time isn't only a factor in meeting project deadlines -- it also means hours of labor. It could affect the overall cost of the job or lower your hourly wage depending on how the job was bid out.
When deciding between connector technologies, performance is also key factor. It is attributed with the longevity of customer happiness. If you finish their project within budget and on time, but they end up having network issues, then it won't reflect well on you.
Here are the common connector technologies:
Epoxy and Polish: Bond field fiber inside connector ferrule with epoxy, then field polish.
Mechanical Splice: Join field fiber to factory-terminated fiber stub using V-Groove with mechanical clamp and index matching gel.
Splice-on: Bond field fiber to factory-terminated fiber stub using a fusion splice inside connector.
Pigtail Splicing: Bond field fiber to factory-terminated pigtail using fusion splice outside connector.
Factory Termination: Factory pre-terminated fiber
CommScope has evaluated the top technologies and created a chart for easy reference. There are often trade-offs with each technology, so it is best to know your customer's priorities before proceeding.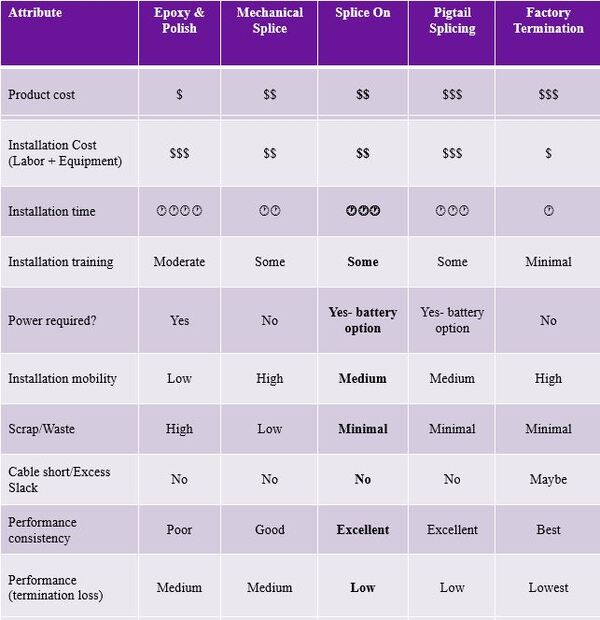 Looking at the connector technologies side-by-side there is one that stands out as having minimal tradeoffs, the splice-on connector. In my next blog, I'll take a closer look at the splice on connector and the reasons why you should take a closer look too.