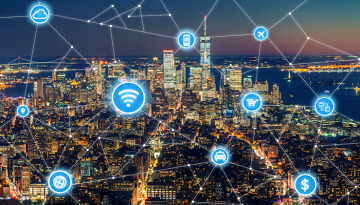 There is a lot of hype around the term smart cities, and for good reason. Smart cities are the future of where we work, live, and play. It is predicted that by 2050, 68% of the world's population will live in urban areas. There are many definitions for smart cities, but for this article, let's take a simple approach by defining a smart city as a connected city where citizens, technology and processes, such as garbage collection, can all be connected. None of this happens without the fundamental connectivity layer. The demographic shift combined with a continuous growth of IoT and management apps require city planners to start thinking about their smart city vision. Let's talk about four strategies city planners can consider.
Plan for the long-term
For some, a first thought might be to pursue short- term goals such as switching to LED street lighting. However, city planners should think long term about emerging applications. City planners who consider long-term possibilities often consult with IoT and network connectivity vendors to identify how a long-term plan will minimize network upgrades and future disruptions. An example of planning for the long-term would involve fiber connectivity to light poles which enables small cells and other applications to be easily and more cost effectively added to the pole at a later date.
CLICK TO TWEET: Alexy Luecke explains four strategies city planners should consider for their smart city deployment.
Plan for convergence
Today, cities are typically served by different networks built by traditional telcos, cable operators, internet and neutral host providers, utilities, and municipalities. As a result, there are disparate wireless and wireline networks and each time a new network is implemented, the city streets are being dug up again and again for installations. By planning for convergence, both wireless and wireline networks can be installed at the same time which maximizes asset utilization and optimizes cost efficiencies.
Plan for ubiquity
Cities should be able to bring connectivity to all citizens, including those who are able to pay for services and those who cannot. As the world moves to a digital future, adequate wireline and wireless services must be accessible to commercial, industrial, and residential communities of all income levels to stop the widening of the digital divide.
Plan for creative funding
City planners can get creative with funding as they think of ways to enable ubiquitous broadband network connectivity in smart cities. Cities have an abundant eco-system to work with including partnering with service providers, network operators, utility companies, and other organizations to co-fund smart city projects.
In summary, planning for the long-term while considering convergence, ubiquity, and creative funding can give smart city planners an edge in attracting people and businesses. Have questions? CommScope can help with the strategies mentioned and provide the connectivity infrastructure to make it all happen.
Additional resources: