The Ruckus Room recently toured the Golden 1 Center, home of the Sacramento Kings NBA basketball team. During our visit, we met with Golden 1 CTO Ryan Montoya to discuss the center, which has been dubbed one of the world's most advanced and innovative sports arena. In fact, Wired describes the arena – home to 17,500 fans on any given night – as a "giant Tesla."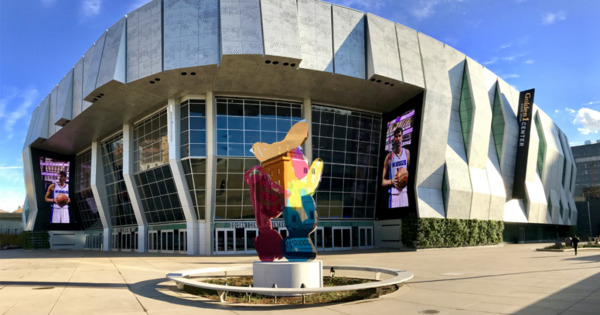 As Montoya notes, Golden 1 was designed and built with four objectives in mind: to provide the ultimate fan experience by being the most iconic, sustainable and technologically advanced arena.

"[To fulfill these] requirements, we had to be the most connected arena in the world. So, early on we met with some of the best engineers throughout the world to try to figure out where the technology was going to be five and ten years out," he told The Ruckus Room.
"Meeting with the founders and the CEO of Ruckus, [I realized] they [had both the] vision and understanding of where the technology was going. I knew that [Ruckus] was the right partner [and] I knew we would be able to achieve our goals of featuring [wireless connectivity] and scale throughout the [arena]."

Ultimately, says Montoya, Golden 1 purchased and deployed multiple Ruckus products, including 1,000 indoor and outdoor Wi-Fi 5 (802.11ac) access points (APs).

"Wi-Fi has always been one of the biggest priorities, not only for technology but for the business. We are in a world where fans are coming to the game with multiple devices. More importantly, we wanted to be able to provide our fans with that active texture and color to augment the experience. Wi-Fi [is clearly] critical to everything that we do," he explained. "In addition to Ruckus Wi-Fi access points, we have the Ruckus Smart Cell Gateway, Smart Cell Insight, ICX switches, and Virtual Spot."

Ruckus Wi-fi, says Montoya, also helps Golden 1 power its app, putting a remote control in the hands of every fan in the league. Using the app, fans can access transportation and parking information, activate seat upgrades and navigate the arena with turn-by-turn instructions. Fans can also order food directly to their seats and check on concession and bathroom lines. Last, but certainly not least, the Golden 1 app enables arena staff to closely analyze the business.

"We [now] have the ability – in real-time – to really understand where our business is. At any given moment, we know how many people have entered the building, what food products they are purchasing, if there's an issue on the concourse [and where] exactly our fans are in real time. We are able to make smarter decisions faster," he added.

From day one, says Montoya, Ruckus has always been first class.

"When we made the decision to go with Ruckus, it was a technology-based decision. [However], over the last year and a half or so it's not only about the technology – but it's also about the amazing support from Ruckus and their vision," he concluded.