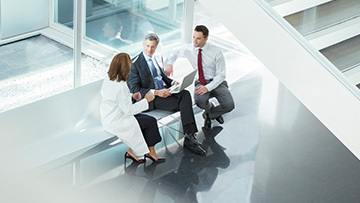 Let's face it: Technology is sexy. The idea of using incandescent light as a wireless medium, the reality of foldable smartphones or 1TBps transmission speed—it's exciting and newsworthy. People love it. Network infrastructure, on the other hand, not so much.
The fact is the only time an enterprise's LAN infrastructure makes the news is when it goes down. Enterprise network managers don't get points for maintaining 99.9 percent uptime; they do, however, get called out on that 0.1 percent when the network goes down. In today's business climate, the cost of an unplanned outage is enormous—about $3.86 million per incident according to estimates from Ponemon Institute.
Of course, the hit to the company's bottom line is just part of the damage. Any unplanned outage also affects business productivity, stakeholder relationships, supply chain logistics and…well, you get the idea. The point is, network reliability and business continuity go hand in hand—it's a cause and effect.
CLICK TO TWEET: The best network infrastructures are the ones you don't see. Here's CommScope's 3 ways to keep them invisible.
Like a referee during a basketball game or football match, the best cabling infrastructures are the ones you never notice. So how do you make your building's LAN network invisible? It's not magic. It just takes some good old-fashioned planning, as well as an understanding of how the various areas of your building's network infrastructure can impact network reliability.
Automated infrastructure management (AIM): AIM systems give you visibility at the port device level. These systems constantly monitor all physical layer connections and can alert personnel to any changes or potentially disruptive circumstances that may affect network status.
Modular scalability: Every successful network is continually evolving. Being able to adapt to change with minimal impact on business continuity requires a scalable infrastructure and modular components. This enables you to simply switch out pieces to support new technologies and faster speeds.
Network convergence: It isn't just specific to service provider networks. It is redefining how enterprise LAN networks are designed and deployed. More and more systems rely on the structured cabling network for power and data transmission: security, lighting, in-building wireless, etc. Powered cabling systems like power over Ethernet (PoE) and powered fiber—deployed over Category 6A copper—lets you seamlessly extend the network to the edge. Because these systems are powered at the switch (typically supported by UPS batteries), they won't go down if you lose power.
A resilient, redundant and intelligent network infrastructure can go a long way toward minimizing your chances of an unplanned outage and maximizing productivity across the entire enterprise. CommScope partners with companies across the globe—helping them realize their vision for smarter, more productive buildings and spaces. To learn more, check out our recommendations for a more reliable network and read the news story in Inside Networks (pages 54-56).