Large public venues (LPV) have unique characteristics and challenges that make them different than most other environments. This is certainly true of the modular Chesapeake Energy Arena. On any given day, you might find the floor of the Chesapeake Energy Arena covered in two feet of dirt (for professional bull riding), or a concert stage (for top music artists), or a hardwood court (for the resident Oklahoma City Thunder basketball team).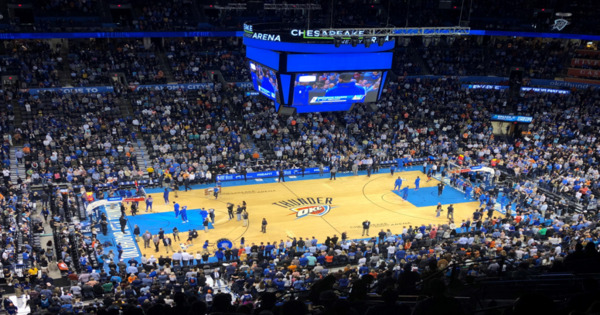 The owners of the 581,000 square foot stadium recently decided to upgrade the arena network to bolster fan engagement. We all know the feeling of frustration when you can't get your mobile device to connect. Let's face it, we live in a world where technology is front and center. An LPV network needs to be reliable to ensure the continuous generation of revenue. However, these venues are often treated like all the others when it comes to deploying a network solution which just leads to frustration.
The Chesapeake Energy Arena started by replacing its wired network. They installed Ruckus' ICX switches at the core, distribution and access layers. "We went from a 1 GB backbone to 20 GB with scalability up to 160 GB. Network performance went through the roof. The stability was rock solid," states Christopher Nelson, IT manager for SMG.
When it came time for the wireless side of the network, the arena required a vendor that could provide high-quality connections at higher data rates in a unique setting. Since the venue has retractable seats, it was imperative that the access points (APs) be mounted on the trusses and catwalks at the top of the arena. Several vendors were evaluated based on price, security, and ease of management. "Only Ruckus could span from the top of the arena to the floor level, a distance of almost 100 feet. My goal was to create a Wi-Fi cloud around the arena—the perfect blanket of coverage. I wasn't even sure it was possible, but we did it with Ruckus Wi-Fi," comments Nelson.
This is no small feat. However, with Ruckus' patented BeamFlex adaptive antenna technology, each AP effectively mitigates radio interference and provides an increase in performance and range. This is because our BeamFlex technology enables the antenna system within a Ruckus AP to continually sense and optimize for its environment. The Chesapeake Energy Arena occupies up to 20,000 fans, so it's important for the devices to be connected so they don't continuously probe and clutter the RF spectrum.
As LPV technology deployments become more sophisticated, we will be increasingly motivated to ditch our living room for immersive, on-site experiences that simply can't be replicated at home. A new generation of analytics and apps – which are dependent on fast and ubiquitous Wi-Fi – enable fans to communicate and interact while generating revenue for venues and entertainers.
I don't know about you, but I love to be wined and dined. If I had the choice between lounging on my couch or benefiting from an in-venue experience with all the bells and whistles, I would be enjoying life at the venue. To learn more about how our partnership with SMG created a top-notch network at the Chesapeake Energy Arena, read our case study and watch the video.