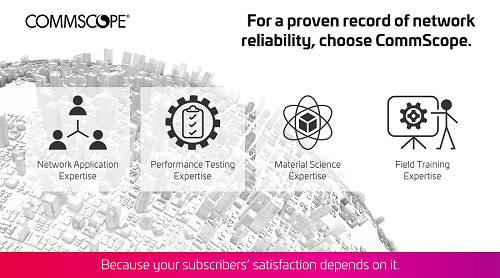 Networks touch almost every part of our daily lives and when things are working well, it's easy to see that we take their reliability for granted. At CommScope, we understand that for network operators, network reliability is absolute vital because the broadband network carries multiple high value services and needs to satisfy the needs of a variety of customers. Today, network reliability is a primary and growing competitive differentiator for network operators.
CLICK TO TWEET: CommScope's Jan Vandenbroeck explains with increased 5G and IoT deployments, network reliability is a must for operators now and in the future.
In its most narrow definition, reliability is the capability of a component to meet a defined functional performance level over a defined lifetime period. However, to deliver decades of ultra-high network reliability, CommScope approaches reliability in the broadest definition and with a keen eye on the future.
By working in deep collaboration with the customer we focus our global experience and knowledge on the issues of a specific customer. The first step is to make sure we understand the needs, deployment plans and how they plan to execute. Our field application engineers perform a site survey that gives us a complete understanding of the applications and field handling conditions. We look at the component level, at the product level, and at the system or network level. We examine installation practices as well as product utilization. Our network architects make alternative topology simulations, when applicable. In our industry-leading laboratories, we create new technologies, materials and designs and test these to international standards and beyond.
With 5G and IoT deployments, we anticipate that network operators will need to increase service level agreements for residential and business subscribers, and, at the same time, provide increasing bandwidth, deal with latency requirements, rapidly changing network conditions and higher churn.
Through our deep understanding of applications and solutions, we're well positioned to help our customers implement strategies for the best way to deploy their networks. CommScope has more than 40 years' experience ensuring our customers' networks are reaching their highest potential and maximum reliability.
Check out the newly released Network Reliability series to gain insights directly from CommScope experts.