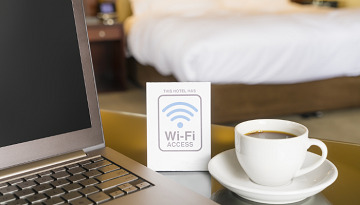 As a frequent business traveler, I typically spend just as many hours working from hotel rooms around the world as I do from my office in Dallas, Texas. And even though I have a heavily vested interest in the cabling infrastructure market due to my position at CommScope, when I am working from a hotel room my best option for connectivity is typically provided over a Wi-Fi connection. The challenging part of my expectation is that my requirements for robust connectivity do not change based on my location. I am regularly logged in over the corporate VPN to email, CRM and a variety of other network applications, all while trying to participate in a video meeting over the very same connection.
CLICK TO TWEET: CommScope's Trey Somers explains that the hospitality industry should consider Cat6 A and multi-gigabit switches to support Wi-Fi 6 technology for improved connectivity.
Similarly, much of my family and parenting time when traveling is handled in the same fashion. Having three teen/tween kids who prefer to interact over FaceTime, the model typically works okay assuming that my connectivity is solid. To complete my total and complete dependence on robust internet connectivity when I'm on the road, my downtime typically involves streaming my favorite Netflix, Amazon Prime or Hulu shows on my iPad...once again over Wi-Fi.
I guess you can say that there is nothing particularly unique about this model or the volume of content that I consume daily. I'm just one of thousands of road warriors whose expectations and requirements for reliable bandwidth increase each and every day.

Backend Infrastructure

Because of my profession, I am also a road warrior who fully understands and appreciates that many of the hotels I stay in have invested heavily to install next generation wireless access points (APs) to accommodate this ever-growing trend of data consumption. In theory, these access points should enable guests and staff to enjoy a fast and reliable connection throughout the hotel in guest rooms, business centers, restaurants, gyms and lobbies. In fact, this feature is no longer "nice to have" but rather a hard requirement to keep rooms occupied with business travelers. I also realize that simply installing new APs is not always enough to ensure a fast and reliable connection.

This is because the backend infrastructure needed to support the latest generation of Wi-Fi APs must also be upgraded to handle bandwidth-hungry guest devices such as AR/VR applications, 4K video streaming, wearables, tablets, laptops and personal assistants such as Alexa and Siri. In addition to supporting guest devices, backend infrastructure delivers critical connectivity for evolving hotel operational technology (OT) like smart room IoT devices, CCTVs, asset tracking, panic buttons, climate control systems, smart locks and POS devices. Let's explore this in more detail below.

Infrastructure Cabling

Wi-Fi 5 Wave 2 (802.11 AC) access points can support download speeds of up to 800 Mb/s and Wi-Fi 6 (802.11 AX) of up to 1.6 Gb/s. To ensure an optimal performance of those APs, the experience for guests and future growth, both versions should be run over Category 6A cables. However, all too often this part of the backbone is either completely ignored or installed in the cheapest way possible. Consequently, these backbones will often times perform far below the recommendations set by ISO/IEC and ANSI/TIA for Category 6A to fully support Wi-Fi 5 Wave 2 and above. The unfortunate truth is that not enough people think about the real-world infrastructure 'plumbing' that is needed to support the massive flow of data and applications running over it.

PoE

This brings me to my second point. The latest generation of Wi-Fi 5 Wave 2 and Wi-Fi 6 APs can also benefit from multi-gigabit switches that support the 802.3bt Power over Ethernet (PoE) standard to its full 90 watts. Although most of these APs operate at 30 watts, some require more power to drive the 4, 8 or 12 wireless radios to full power – and provide power for devices connected via their USB ports. Put simply, more than 30 watts is needed to take full advantage of certain Wi-Fi 5 and Wi-Fi 6 access points.

In many cases, 40-45 watts is enough for optimal AP performance. Additional devices powered by PoE can also benefit from more than 30 watts include HD/4K video displays, point-tilt-zoom cameras, POS systems and smart LED lighting. Those same connections should be installed with Category 6a infrastructure.

Beyond Access Points

Looking beyond access points, there are several devices that can take advantage of more than 60 watts of PoE at the switch. Much like Wi-Fi 6 APs operating with only 30 watts, many devices are designed to operate with less than optimal power – but only deliver their full capabilities when maximum power is available. One such example is smart LED lighting. Another is a wide range of IoT devices for office and building automation. We expect this trend to continue in the future for next-generation IoT sensors, access points, and video, as well as AR/VR infrastructure.

Conclusion

In conclusion, simply deploying new Wi-Fi 6 access points isn't enough for hotels to ensure an optimal guest experience. Data consumption and PoE device proliferation will only continue to grow. To fully support the newest generations of APs, Category 6A cabling infrastructure and multi-gigabit switches that support the 802.3bt PoE standard to its full 90 watts should be installed as well.