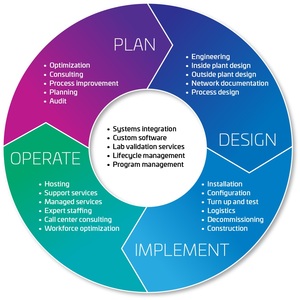 This blog post is part of a series called "CommScope Definitions" in which we will explain common terms in communications network infrastructure.
When the world's leading operators start planning their networks of the future, they don't simply look at technology—they select a team of experts to guide their evolution.
By using local and trusted service teams that provide complementary resources, both internally and externally, operators can build out their network strategically, using the right combination of solutions and strategies to maximize today's output while establishing a clear path to the future—allowing them to achieve it quickly, cost-effectively, and at scale.
That's the role of Professional Services.
CLICK TO TWEET: CommScope's Jay Bestermann explains the role of professional services in our Definitions Blog series.
From the design and management of future networks to the implementation, verification, and automation of these complex projects, CommScope's experts ensure that the biggest, most ambitious network shifts go off without a hitch. It's one of the main reasons why operators around the world continue to choose CommScope for their most important projects.
We have more than 1,200 experienced service professionals in 30 countries providing the localized expertise—informed by worldwide experience—to navigate cutting-edge projects around the world.
A great example of this is our recent work with Frontier Communications in Norwalk, Connecticut.
Frontier provides broadband and voice services to more than 4.7M residential customers and 430,000 businesses in the US. It recently selected CommScope Professional Services to deliver high-performance public Wi-Fi offerings to commercial subscribers across the country. In order to minimize the complexity of building its own managed networking and wireless offerings from the ground up, Frontier Business turned to CommScope for a hosted, white label, carrier-grade solution.
Frontier took advantage of CommScope's end-to-end portfolio of network solutions—from access points to wireless access controllers, ICX switches, firewalls, and the CommScope Virtual Managed Edge. And with a deep understanding of this technology and Frontier's existing network, the Professional Services team not only handled the hosted core integration, but owned the site design and installation, end customer and end user onboarding process, and setup of customized user portals and administrative dashboards for advanced analytics and reporting.
By providing both the solutions and the expertise, CommScope was able to eliminate the burden of dealing with multiple vendors while achieving key synergies—like the ability to offload management and monitoring for the entire networking platform.
Frontier is now deploying CommScope managed Wi-Fi and managed networking offerings to new and existing commercial customers in 28 states.
To find out more about CommScope Professional Services, check out our solution page.