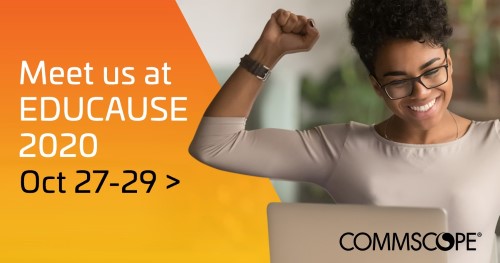 Students prefer on-campus vs. online learning but are wary of a "new normal"on campus that involves isolation, distance learning, and disconnection from campus life. In many ways, our past "normal" was not nearly good enough and in many ways that past "normal" even exacerbated many of the problems we are facing now during this pandemic. In addition to ongoing challenges of equity, learning and physical safety, educators must grapple with COVID-related issues like testing and contact tracing.
That's why it's more important than ever for campuses to adopt smart campus technology which delivers new services, experiences and efficiencies thanks to real-time contextual data supplied by IoT networks. Universal connectivity is the foundation for a smart campus. It includes a campus-wide network of copper and fiber backbone; ubiquitous wireless coverage—Wi-Fi and cellular, indoors and out; high-speed switching and reliable powered fiber; plus, the vision and experience to bring it all together.
CLICK TO TWEET: During the upcoming EDUCAUSE 2020, CommScope's Rich Nedwich wants to introduce you to our education team, our Smart Campus Solutions and encourage you to visit our higher education site to learn what makes a college campus smart.
This year at EDUCAUSE, the largest higher education event in North America, CommScope will offer four information virtual venues related to hot smart campus trends:
Presentation 1: Private LTE Use Cases on Campus: Why is CBRS Needed?
Attend this session, co-presented by CommScope and the UNC Chapel Hill, to learn about emerging Private LTE use cases coming to campus, and the CBRS spectrum and solutions that are making it possible, from secure emergency comms to maintenance use with PTT radios, secure IoT, CCTV backhaul, smart poles and kiosks. Learn about CBRS technology and networks vs. LTE vs. Wi-Fi 6 – the promise and the challenges – as the presenters answer such questions as:
How do the wireless technologies on campus today compare?
What are the key considerations for deploying CBRS wireless networks?
What are the major private LTE use cases on campus?
Presentation 2: Smart Campus: Building a Better Normal for Higher Ed
In this session, leaders from higher ed institutions will share their perspectives on the transformative benefits of a smart campus powered by AI and IoT to build an adaptive, data-rich, physical, and informational infrastructure and capability that will help build a better normal that serves all students in a more equitable, responsive and personalized manner while delivering on cost and operational efficiency goals. Topics include:
What defines a smart campus and its benefits to address institutional imperatives and student success to build a better normal
The role of AI and IoT in integrating, creating, and using existing and new data
How real-time and predictive data can empower students and administrators to make data-driven decisions to thrive in the new normal.
RUCKUS partner Cytilife has smart reopening and contact tracing Smart Campus Solution.
Session 3: Securing Digital Equity With Private LTE Using CBRS
CBRS is a new option to meet the most challenging enterprise wireless needs. In this session, attendees will learn why is CBRS an ideal solution to help address campus digital divide and home broadband needs. Attendees will learn:
What is CBRS?
How CBRS differs from other smart campus options.
How CBRS complements Wi-Fi and mobile operator LTE service.
CommScope Virtual Booth
In our virtual booth, we will present network and infrastructure solutions for Smart Campus Learning, Living, Safety and Operations. Join us at EDUCAUSE 2020 to meet our education team and learn about Smart Campus Solutions, and visit our higher education site to learn more about what makes a college campus "smart."