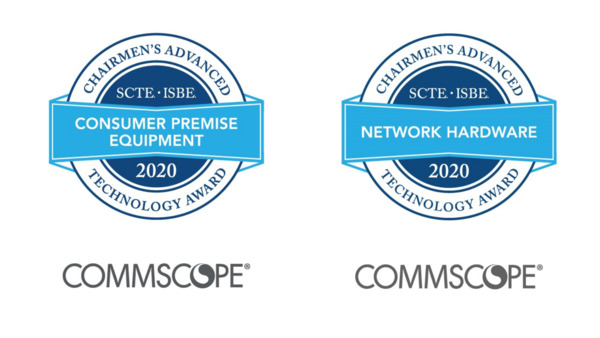 We're proud to announce that CommScope has been awarded the SCTE's first-ever Chairman's Advanced Technology Award in the categories of Consumer Premise Equipment (CPE) & Network Hardware
This award represents significant contributions to the SCTE's cutting-edge 10G platform initiative­­--elevating the industry's standard for broadband connectivity. As a longstanding technology partner to the SCTE, we've been a chief collaborator in the society's pioneering efforts to advance the cable industry through initiatives ranging from DOCSIS to 10G, which have improved the lives of billions of people around the world.
CLICK TO TWEET: CommScope received the inaugural SCTE Chairman's Award in the categories of CPE and Network Hardware.
Recently, our work with the SCTE culminated in a groundbreaking 10G trial with Mediacom, which employed CommScope's end-to-end portfolio of CMTS, node, server, and CPE solutions to power Mediacom's new ultrafast broadband network. The trial is one of the cable industry's most exciting milestones this year, and was one of the hottest topics at the SCTE•ISBE Cable-Tec Expo.
At the show, our very own Frank Drendel, Chairman Emeritus, accepted the award on our behalf. In his acceptance speech, Frank recognized the indelible contributions of the industry, our customers, and employees who contributed to the team that worked hard over the last year to turn our vision for 10G from an initiative into a reality.
Our heartfelt thanks to the SCTE program committee for recognizing CommScope's contributions to 10G. We look forward to our continued partnership to deliver 10G to the rest of the world.