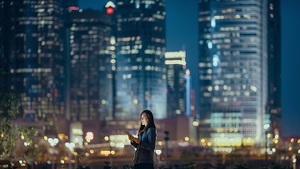 Have you ever given your loved ones or friends a gift via social media? With the popularity of social networks, several companies have rolled out the 'gift feature' – in attempt to commercialize offerings on social media. For instance, Facebook tested 'Facebook Gifts' allowing select Facebook users in United States to send a real gift to friends through the social network. 80% of the gift sent were in the form of electronic gift cards; for instance, $20 to spend at Starbucks or $50 to spend on apps and music at iTunes.
Although the feature was shut down years ago, this mindset steered the rise of digital currency or e-wallets. Social media apps are integrating payment onto their platforms.
Digital currency is enabling a cashless society, driven largely by Millennials. In a survey, 73 percent of Millennials are excited about the potential financial offerings from innovative companies like Google, Apple, Amazon, PayPal, and Square. With the modern iPhone, users can even send payments directly through iMessage. Ultimately, it's about creating value and convenience for customers.
CLICK TO TWEET: As digital currency become more popular, especially with millennials, CommScope's Sam Lin explains why connectivity has become more important than ever.
Digital Red Packets worth 1 Billion Yuan to be Given
Several countries like Singapore, the Netherlands, France, Sweden, Belgium, and Canada are also making serious headway towards a cashless society. But China has leapfrogged other markets when it comes to cashless payments, primarily through mobile phone payment systems like Alipay and WeChat Pay. To paint a picture, the super app WeChat combines WhatsApp's messaging, social media elements of Facebook, online commerce of Amazon, transportation network of Uber and its integrated payment function, like PayPal.
A record-breaking 1 billion yuan (US$143 million) worth of digital red packets will be sent out by Kuaishou Technology during the 2020 Spring Festival Gala.
The Spring Festival Gala is China's most-watched annual TV show on Lunar New Year's Eve. Last year, the TV show set a new viewership record with an aggregate viewership of 1.173 billion across all platforms, including apps, websites, video-streaming sites and social media.
More young people are tuning in as the show puts in effort to engage the Millennials and Gen Z. For example, 'red packet snatching' is one of the most enticing marketing tactics to engage this audience, as we see the stakes raised to 1 Billion yuan this year.
Connectivity in a New Decade
Digital Red Packet is a phenomenon sweeping across Asia. In Singapore, DBS bank piloted the world's first loadable QR red packets, allowing DBS PayLah! users to preserve the traditional act of giving and receiving physical red packets, while eliminating the use of cash.
Digital currency has changed the world in the 4G era, and entering a new decade with the promises of 5G, how do you think the world will change? For one, we know that the world will become hyper connected with fast, complex networks, coupled with a new generation of devices that support 5G and beyond.
Therefore, at CommScope, we are dedicated to innovating for smarter and faster 5G network deployments. At Mobile World Congress Barcelona, we'll be showcasing technology that addresses the needs of some of the most challenging and complex technical environments in the world. Make sure you visit us in Hall 2, stand 2J30 and schedule a meeting or demo with us.
Every Lunar New Year starts with a new zodiac sign and 2020 is the Year of the Rat. The rat is also the first of the 12 animals to appear in the Chinese zodiac; and represents wealth and abundance. As we usher in the Lunar New Year, may our readers have an abundant and prosperous year!