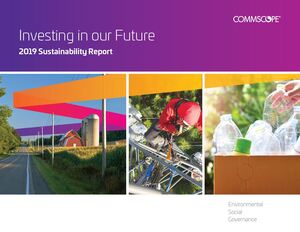 CommScope has just released its 2019 Sustainability Report and I want to share with you the highlights of the great work we have done in 2019 as we drive sustainability across our business.
2019 was a transformational year for CommScope. The 2019 Sustainability Report is our first consolidated global sustainability report since we completed the acquisition of ARRIS. That acquisition brought together a unique set of complementary portfolios and capabilities that enable end-to- end wired and wireless communications while further advancing our sustainability ambitions.
CLICK TO TWEET: CommScope just released its 2019 Sustainability Report - here's the highlights!
CommScope had several key sustainability achievements during 2019:
We achieved a Gold level rating for Corporate Social Responsibility from EcoVadis for the fourth consecutive year. This ranks CommScope in the top five percent of suppliers assessed by EcoVadis in all categories.
We were recognized in Newsweek's 2020 list of America's Most Responsible Companies.
We are reducing the environmental impact of our operations. Last year, we cut our greenhouse gas emissions from our operations by nearly 3 percent, water withdrawal by 2.5 percent, and diverted 83 percent of non-hazardous waste from landfill.
Our Home Networks team has eliminated single-use plastics in all new set-top products outside of the Americas and is advocating with our customers for their cooperation in agreeing to remove single use plastics globally. Our Venue and Campus Networks team is also working to eliminate single-use plastics from packaging for all RUCKUS branded products.
We continued to decrease the environmental impact of our products by reducing the energy use in our access network and edge facility products. We are also reducing the amount of energy our set-top boxes and small network equipment use, well ahead of the voluntary commitments we made to regulators in the U.S., Canada and European Union.
We continued to help our employees realize their potential. Over 2,400 of our people have taken part in the uLEAD learning program, which helps employees develop their skill sets and further their careers.
Our employees' generosity helped our communities. Our people took part in our annual Earth Day activities around the world, the annual United Way campaign in the U.S., donation drives for crises like the Australian wildfires, food and blood drives, school supply drives, and numerous local fundraising events.
At CommScope, we believe that corporate responsibility and sustainability means making decisions that have a positive impact on our people, our planet and our bottom line. By leveraging innovative technology, intelligent engineering and energy-efficient designs, CommScope strives to be a great corporate citizen by building sustainable networks that make our customers more agile, while also protecting the planet and preserving the natural ecosystems from which we source our raw materials.
The 2019 Sustainability Report provides details of the environmental, social, and corporate ethics and governance initiatives and progress we made during the past year. In it, you'll find many compelling facts and figures about CommScope's progress in corporate responsibility and sustainability.
Read the report and watch this blog for more details about corporate responsibility and sustainability as we move through 2020. We welcome your feedback, thoughts or questions by emailing us at sustainability@commscope.com.