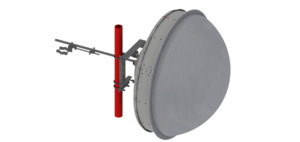 A recently introduced U.S. Congressional initiative seeks to encourage telecommunications companies to strengthen their wireless networks to better maintain service during disasters. As Thomas Frank of E&E News reports, there is "growing concern" that wireless customers and emergency responders cannot make or receive calls and texts when hurricanes and wildfires disrupt cellular service.
CLICK TO TWEET: CommScope's Kevan Williams explains how deploying the right antenna to withstand high winds and harsh weather can help wireless networks maintain reliable service during poor weather.
"The concern, triggered initially by Hurricane Katrina in 2005, gained new urgency after Hurricane Maria knocked out Puerto Rico's cell service for months in 2017," writes Frank. "Another disruption came last fall when wildfires and power outages left swaths of California without telephone and internet access."
To be sure, storms created by wildfires often generate stronger winds, which fans the fire and makes it hotter and more likely to spread.

Deploying antennas to adequately withstand harsh weather patterns and natural disasters like wildfires is only one of the many formidable challenges microwave design engineers face. Others include tower loading, securing clear spectrum for a 6 or 11 GHz path, and reserving tower space.

To help meet the above-mentioned challenges, CommScope is introducing a new microwave antenna that more efficiently redirects wind around the antenna to reduce wind load characteristics. Rather than a planar radome, the LX6 series of Low Wind Load Antenna are designed with a hard polymer molded radome to more aerodynamically direct the axial force of wind around the antenna. As with all CommScope microwave antennas, the antennas are fully tested and characterized with the radome included to ensure that the radiation pattern envelope is FCC Category A compliant.

In conclusion, CommScope's FCC Category A LX6 Low Wind Load Antenna minimizes tower loading in harsh weather patterns and natural disasters like wildfires that create high winds. The wind may still blow, but CommScope's new microwave antenna can help wireless networks maintain reliable service during inclement weather and high winds.