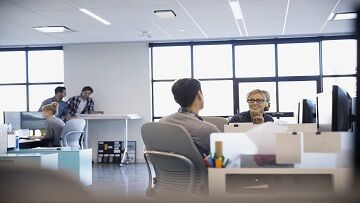 As federal agencies try to meet governmentwide goals for digital transformation with systems upgrades and emerging technology, they sometimes skip over the foundational piece – the network infrastructure – either in the belief that existing networks are enough or that an upgrade won't have a good return on investment. Both assumptions are incorrect.
Network infrastructure – including fiber and copper cabling, antennas, wireless access points and switches – is the backbone for all the devices that run on the network. Industry innovation has led to an abundance of devices and applications, allowing solutions to nearly any operational challenge. That's the upside. The downside of digital transformation is that 1) bandwidth is limited, requiring the most efficient means possible to transmit information and 2) traditional cabling cannot support so many applications to their full potential. As agencies expand their use of mobile applications and internet of things devices, they find that current 4G connectivity is insufficient, causing latency and slow signal strength. This is especially true in newer buildings built with ecological, high-insulation materials that are an additional barrier to cellular signal strength.
CLICK TO TWEET: CommScope's Jay Williams explains how the fourth utility is catching on in government services.
Federal agencies, with their high volume of users, robust applications, and vast data stores, must be able to count on networks that are fast and reliable, and that can stand the test of time. For that, agencies need utility-grade infrastructure – a strong and durable network foundation that uses converged wired/wireless networks to connect any device in the building.
When internet connectivity is accepted as a necessary part of building infrastructure, alongside electricity, water, and gas, it is known as the fourth utility. CommScope's acquisition of Ruckus has created a powerhouse for network infrastructure installation and upgrades, as well as managed services by which customers can contract network infrastructure management like other utility services. Just like with utilities, the first step in network infrastructure is conducting a physical site survey, and then determining different connectivity options. Utility-grade infrastructure can meet varying requirements for low- or high-bandwidth devices and applications and supports Wi-Fi as a backhaul service.
How CommScope is leading
The concept of the fourth utility is catching on in government services and CommScope is paving the way, working with industry partners on developing solutions that are certified as "UTG compliant" by Underwriters Laboratories (UL). Such certifications would instill confidence that networking equipment meets all industry standards. As one example, structured cabling standards specify that the maximum distance of a structured cabling channel is 100 meters, but some devices are more than 100 meters away from the switch. At certain speeds, CommScope solutions can exceed that distance, and those solutions have been certified by UL to do that.
Just like the plumbing and electricity, internet is something people don't think about until it goes down – which, for most workplaces, is a disaster. To avert disaster requires either building out network infrastructure for the future – understanding that the lifespan for each generation of cellular is about ten years -- or upgrading it to support the growing demands for wireless connections. It's only with that type of network foundation that government agencies can have true digital transformation, where the internet is ever-present, but rarely thought of.