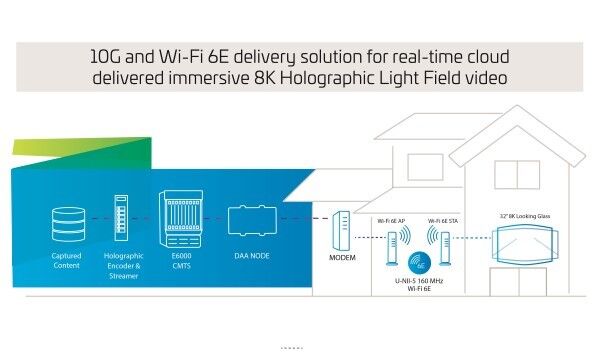 We kicked off SCTE•ISBE Cable-Tec Expo by providing the platform powering the feature 10G light field holographic video demonstration in this year's keynote. CommScope—along with Charter, CableLabs, Comcast, and the NCTA—opened the show with a preview of what a combined DOCSIS 4.0 and Wi-Fi 6E platform can deliver for high-capacity, low-latency services.
This two-way, interactive demo featured our E6000 Converged Edge Router, RUCKUS ICX switches, E6000r R-PHY Shelf, TG9452 DOCSIS 3.1 modem, and experimental Wi-Fi 6E access points and extender products.
Together, these solutions formed a next-generation networking platform that easily handled the 8K light field holographic video demos, which required single-digit millisecond latency and multi-gigabit capacity over the DOCSIS network and 160MHz channel width, 1024-QAM Wi-Fi in U-NII-5 in new 6GHz spectrum. We weren't satisfied with delivering 43 layers of 8K light field holographic video content, so we had two 8K streams concurrently on the DOCSIS and Wi-Fi 6E networks showing the ability for both to support this multi gigabit concurrency of service.
CLICK TO TWEET: CommScope powers the possibilities of immersive video services at this year's SCTE virtual show.
As a nod to the way our lives have all changed in the past year, we even offered a sneak peek of how the future of deeply immersive "work from home" and "exercise from home" experiences could play out, in demonstrations that highlighted the speed and low latency of the next-generation HFC network.
For CommScope, 10G represents the next step in the evolution of the HFC network. Together with Wi-Fi 6E, it provides a platform to sustain the next era of high-capacity and low-latency services. CommScope and its founding companies have been at the forefront of each evolution in both DOCSIS and Wi-Fi. 10G is no exception.
We are hard at work architecting our products for 10G, but are most excited about providing a platform for cable operators to deliver a totally new consumer experience in the years to come to every cable customer, all over the world. We look forward to seeing the new high-capacity, low-latency, immersive services that developers will throw our future networks.