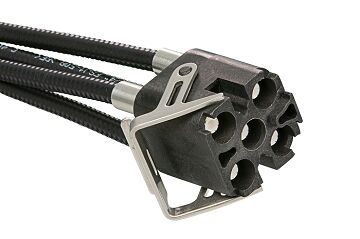 The following guest blog post has been provided by Monica Paolini, founder and principal of Senza Fili. As with all CommScope-hosted blog posts, any opinions or comments below are those of the author, and do not necessarily reflect the views of CommScope.
Cluster connectors were the topic of a recent Senza Fili Sparring Partners with Omar Parimbelli and Marty Zimmermann of CommScope, Sebastien Roy, Radiall, and Earl Lum, EJL Wireless Research. We had two lively sessions with more questions than we could answer from the audience. As well, the MLOC cluster connector made a cameo appearance, with Omar showing live from his Zoom abode how anybody can install it without much experience in the field.
You can view or listen to the recording, so I do not want to spoil it by telling you all about it. However, we covered a lot of ground – why do we care about connectors, how they can make the life of installers and operators easier, how they simplify RAN deployments and how necessary they are to reduce the complexity of 5G deployments. If you are interested in the topic, I recommend that you watch or listen to both, as the questions we got from the audience were varied and our discussion took different turns.
CLICK TO TWEET: Do you know that you can simplify your 5G deployment by using cluster connectors? Monica Paolini of Senza Fili explains in this blog.
The polls, however, were the same in the two sessions. Since they are not in the video, you can see them below.