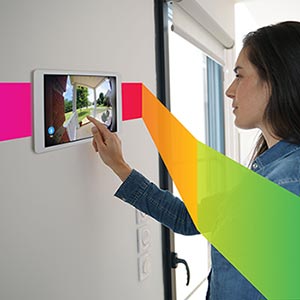 It's no secret we expect all the devices in our home to be connected. In just a few years, we went from using Wi-Fi to connect our computers, smartphones and tablets to connecting our thermostats, televisions and security systems.
Today, some of these devices are connected to either a smart assistant or speaker. With their hands-free activation, smart assistants/speakers give us the ability to use "voice commands" to turn items on and off, play music or videos, and give us news, weather and traffic. And of course, they need to connect to the home's Wi-Fi network to make this "magic" happen.
CLICK TO TWEET: CommScope's Navneeth Kannan introduces you to the many aspects that make up a connected home.
In addition to all things connected, there is no doubt that our video consumption habits have changed. With the rise of streaming services, many of us watch what we want, when we want and wherever in the house we want.
And during the current pandemic, more of us are working and learning from home. The result is the broadband traffic that would have previously taken place in the office or on cellular networks has now moved to home networks, and that's causing a strain.
Meeting the connectivity demands of today's consumer
Service providers can seize this connectivity moment by meeting the demands of today's consumer. They must evolve their offerings and deliver exceptional broadband connections that provide instant, always-available connections throughout the home. It's time to embrace the customers' desire for more voice-visual experiences, aggregate streaming services while reducing supporting costs and deploying easy to install solutions in and around the home.
Service providers must explore how they can deliver all services and solutions and bring more value to enhance their customers' connected lives. Thankfully, CommScope can be a trusted partner to deliver every aspect of the connected home.
The Connected Home
Let us introduce you to the connected home. Learn how CommScope can accomplish all of this and simplify your networks today.