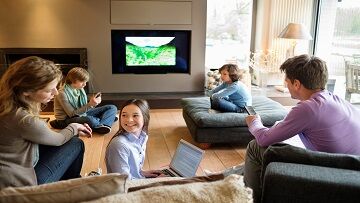 Service providers continue to look for innovative ways to meet the increasing connection demands of today's consumer. They continue to deliver exceptional broadband connections that offer instant, always-available connections throughout the home. However, "simply" offering great connectivity in the home is not enough as consumers are looking for help to navigate the increased complexities of their in-home digital experiences.
One of these areas of complexity is the ever-increasing streaming services available with a dizzying amount of content offered on different platforms and devices. Despite the well-documented phenomenon of cord-cutting and cord-shaving, service providers are beginning to embrace the opportunity to transform the user experience on TVs. By offering high-quality video (and increasingly audio) experiences and aggregating streaming content via an intuitive and easy to navigate user-interface, operators are offering flexibility in content offering. As evidenced by the success of operators like Comcast and its "Flex" service, there seems to be ample room for bundling a great aggregated media experience with a robust broadband package.
CLICK TO TWEET: CommScope's Anthony Zuyderhoff explains how the set-top box continues to evolve into streamers and smart media devices.
As consumer behaviors change so does the need for solution providers like CommScope to evolve. For the last 20+ years, the set-top has been the device that subscribers have come to expect from service providers for their video needs. Now the set-top is evolving into new classes of devices: "Streamers" and "Smart Media Devices" that will enable operators to continue to offer a powerful aggregated service to their consumers leveraging the largest screen in the home.
What are Streamers?
Streamers differ from traditional set-tops in being specifically cost-optimized for delivering streaming services, and are not equipped with tuners for cable, satellite or terrestrial broadcast television. All video is delivered over adaptive bit rate IP. They also come pre-integrated with powerful software and application software platforms and, in some cases, universal search and recommendation capability so that consumers can easily find the content they want. Streamers are not necessarily new as there are retail-led examples from large global players like Apple, Amazon and Google. CommScope is creating streamer solutions designed for service providers to aggregate streaming services with their own branded consumer experience.
What are Smart Media Devices?
SMDs combines the functionality of a Streamer while aggregating other desirable and growing consumer segments, namely smart speakers and audio streaming into a single device. The addition of far-field microphones and speakers for use with voice assistants they deliver voice-enabled experiences with a voice-visual response on the TV. It is also a platform for service providers to build upon, leveraging the large screen "canvas" of the TV for smart-home services, home education, healthcare and more. The concept extends to soundbar SMDs to deliver enhanced "better than TV" audio quality.
Due to the current pandemic, our homes are increasingly becoming our concert halls, movie theatres, classrooms, our social gathering locations. Service providers are trusted sources in the home and CommScope is a key solution provider. So, how can service providers deliver the services their subscribers demand? During a recent Connecting the Dots interview with Andreas Waltenspiel, I discussed these new technologies and how CPE is aggregating more content such as video, voice and music.