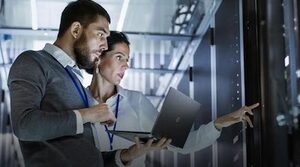 Over-the-top providers—like Amazon, Google, and Netflix—are fueling a cord-cutting trend that's driving average revenue per user (ARPU) dangerously low. Meanwhile, surging data demands from stream-happy subscribers are pushing content delivery networks to their breaking point. In this environment, "business-as-usual" quickly leads to "out-of-business." Traditional communications service providers (CSPs) are under pressure to re-imagine the design and composition of their network infrastructure.
Increasingly, CSPs are transitioning to Software Defined Networking (SDN) and Network Function Virtualization (NFV) to jump-start agility and drive greater efficiency and savings throughout their networks. This cloud-based, software-enabled environment untethers service providers from their dependence on proprietary physical network appliances, giving them access to a vast array of new capabilities:
On-boarding new services running on common off-the-shelf hardware
Linking previously independent silos for improved network efficiency and user experience
Accelerating time-to-market
Satisfying increasing demands for bandwidth and real-time content services
CLICK TO TWEET: CommScope's Jaspreet Sachdev explains how the benefits of SDN and NFV creates unique challenges including getting the various and diverse hardware and software components in the network to talk to one another.
Realizing the benefits of SDN/NFV, however, creates unique challenges—chief among which is getting the various and diverse hardware and software components in the network to talk to one another in order to manage and deliver all these services and capabilities, seamlessly and efficiently. This is where Network Automation and Orchestration (NAO) come in.
Automation and Orchestration—the Value Prop
To be clear, automation and orchestration are two separate functions. Automation enables the network to complete a single task or function without human intervention—increasing the efficiency and reliability of that task. While automation refers to a single task, orchestration defines the series of steps or tasks required to fulfill a service. Together, they ensure that specific processes—like compute allocation or provisioning of compute resources—occur consistently each time with minimum human intervention. The two are indeed separate, but they must work together in order to create the network efficiency, flexibility, and value that CSPs require to keep pace with the advancements of SDN/NFV.
For example, imagine you want to stream live video from a venue over a broadcast network to a service provider who then sells it. The process involves multiple systems, different networks, many locations, and various hardware and software. To do this successfully requires communicating with every touchpoint to coordinate the various interdependent or non-dependent tasks (orchestration); but because of the increasing complexity of the network ecosystem and the vast number of independent policies that need to be administered and managed, that communication needs to happen without manual intervention (automation).
As CSP networks continue to virtualize and the decoupling of control and data planes increases, the role of NAO becomes more prominent. A 2019 study by Research and Markets shows global NAO spending will increase at nearly 18 percent CAGR, reaching nearly $20 billion (USD) by 2023.
At the same time, the focus on automation and orchestration is changing the way service providers and vendors view their networks. The need for orchestration emphasizes the value of seeing the network holistically and understanding the delivery of services as an end-to-end journey involving multiple application, devices, and locations.
Open Source is Fueling NAO Development
Of course, this would not be possible without the advances in open-source development. According to CBI Insights' Market Sizing Tool, over 30M developers currently contribute to community-based platforms and the industry is expected to grow to about $33 billion by 2022. A robust open-source community drives down development costs, opens the field of contributors to virtually anyone and creates a culture of cooperation in which developers freely share their work for the benefit of all.
In addition, open source has created a series of unintended consequences—one of which is the commoditization of more SDN and NFV functions. This is a good thing. As more open source code is incorporated, network and OEM vendors are forced to clarify and articulate the unique value their solutions provide. This is precisely what is happening in NAO.

In switch design, for example, we're developing protocols that will enable us to download code or software functions at the chip level. This will allow for higher bandwidths and lower latency performance, and will ultimately influence the personality of a switch at the chip level. More than tweaking or upgrading device performance, this type of progress is fundamentally changing how networks operate.
Another key development is the orchestration stack. As the instances of cloud and SDN proliferate, network managers are under increasing pressure to coordinate a growing and sprawling set of resources into something resembling a unified data environment. Orchestration stacks provide that centralized control; in a disaster recovery scenario, for example, the orchestration stack allows for seamless transition from a private cloud instance to a public cloud stack (like AWS).
A Journey to the Self-Healing Network
Software-defined networks, virtualization, automation, complete orchestration: When you step back and consider what the larger goal is, I believe it's all leading to a fully-realized self-healing network. Having service provider networks that are highly coordinated and automated, inherently nimble, and able to recognize and respond to changes without manual intervention—that, as I see it, is the holy grail.
To get to self-healing, you first need to make sure you've mastered the basics of service delivery, like provisioning and configuring. That's where we are now. Some are further ahead than others, but we're all on the same basic journey. SDN, NFV, and NAO are all the incremental steps needed to get there. Next comes mastering design and use of machine-learning and AI which will involve massive data collection from all levels. The question there is, how deep can you go inside your network, into and through your switches, to really know what is going on and how to orchestrate and automate the capabilities of tomorrow's networks?
The industry has a long way to go, to be sure. According to a recent post on the Gartner Blog Network, about 70 percent of network configuration activities are still manually driven with an estimated 2 percent of manual changes resulting in some form of error or anomaly. But just two years ago, 85 percent of network configuration activities were manual. We're making progress and the rate of advancement will continue to accelerate as we build on what we've mastered. It's an exciting time to be in this business.