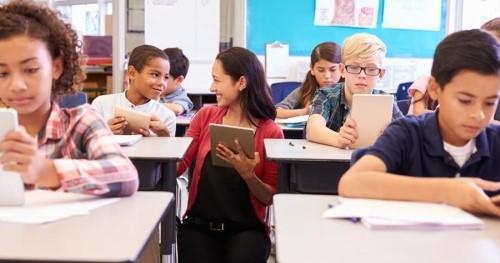 Virtual classroom has come a long way with more technology being enabled within the school. From using laptops and tablets to riding the cloud environment, institutions are embracing the digital revolution as many appreciate the multiple benefits technology brings, such as improving how students are learning, engaging and collaborating in a virtual environment.
Futureproofing Education in the Digital World
Today, teachers and students are always connected via the multiple devices and apps made available to them, especially with schools jumping on the technology bandwagon in implementing cloud computing which aids accessibility and mobility. A technology-based teaching approach will see the number of digital applications and devices such as tablets continue to rise.
CLICK TO TWEET: CommScope's John Dunbar explains how developing technologies have the power to enhance teaching and access to connectivity will empower digital education.
The number of connected devices has made connectivity a necessity in a school environment. Teachers and students need their internet to perform seamlessly throughout the school without having to worry about how many devices are being used at any one time or the type of online learning programs they want to use. For example, downloading a high-definition video on YouTube, which is a preferred educational resource, especially by the Gen Z, requires a lot of bandwidth.
An increased use of devices in the current classroom setting places strain on older generation Wi-Fi networks. This isn't uncommon as both hardware capability and firmware updates on older networks become unable to accommodate or keep pace with newer Wi-Fi technologies and protocols. With many devices to manage and deploy, it makes sense for schools to upgrade their Wi-Fi management for both increased capacity and network efficiency.
Marrying Technology and Education
The Network for Learning (N4L), a government-owned company providing safe and secure internet for schools, has been selected by the New Zealand Ministry of Education (MoE) to support 2,500 schools with CommScope's new Wi-Fi technology. The new RUCKUS Wi-Fi 6 technology can handle many more devices per classroom compared to the old network. The upgrade will allow teachers and students to have uninterrupted, reliable and superfast connectivity to access critical applications and enhance their digital learning within the school.
It is widely acknowledged that education is going to look very different post-pandemic as schools around the world are forced to adapt to a new norm. For one, we know technology is instrumental in enabling a transition to remote learning, with working from home no longer a 'nice to have' option. In the classroom, dependence on connectivity for teaching and learning will only increase, enabling a variety of classroom situations that are more supportive towards flexible student-centric modes of learning. Developing technologies such as cloud computing and virtual/augmented reality have the power to enhance teaching, but it is the access to connectivity that will truly empower digital education.