"Creating a memorable guest experience does not happen by accident. It happens by design."
This saying is true and generally applies to everything in business, including offering easy network access for your guests. When I say easy, I really mean easy for both guests and IT. Let me ask you straight up: Does your current cloud-based network management solution offer easy network access to guests without adding complexity? Why is this so important?
Well, today, it has become all but mandatory for IT to provide network access to guest user devices in a user-friendly way without increasing cost or complexity. This is indeed a tall order. However, just like anything else in the world of technology, there are solutions. It is simply a matter of finding a solution that fits within the boundaries of your constraints. Let's explore four options, among others, that IT has at hand.
CLICK TO TWEET: CommScope's Mittal Parekh explains how generating unique guess passes is easy with RUCKUS Cloud. Sign up for a free trial and get a free Wi-Fi access point.
Option 1: IT could install software or a hardware appliance for secure guest access from the vendor that offered you cloud-based network management. This will require IT to work with the network administrator, network security team and perhaps even the chief information officer's office to get it right. There is a high likelihood that such a system will require guests to download and install additional software on their devices before they can access the network. In no way can this be construed as "user friendly" or "easy." As well, you need to ensure that the vendor is not trying to sell you an appliance with additional licenses (one-time or recurring) to use the appliance only for enabling guest network access.
Option 2: IT could use a feature that is built into the cloud-based network management solution. This sounds very enticing until you try and configure it as this video illustrates. Let's take a closer look at what you just saw in this video. With CommScope's RUCKUS Cloud, you navigate through a single workflow to configure guest access via the four most popular social media systems: LinkedIn, Facebook, Twitter, and Google. This gives your guests the flexibility to select the social media login of their choice. In addition, with RUCKUS Cloud, SMS-based guest authentication is built into the solution at no extra cost to you. Unlike our competitors, we do not force you to buy SMS licenses in bulk from a third-party SMS messaging vendor at an extra cost. Moreover, we do not require you to punch in credentials from the SMS vendor into your cloud-managed networking solution. Our solution is both simple to configure and simple to manage.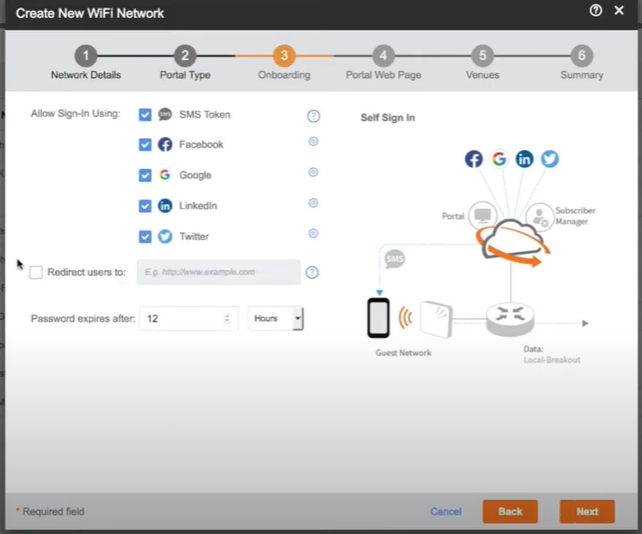 At this point, you should ask your cloud-based network management vendor these additional questions. Believe me, you will be glad you did.
How will they ensure that you receive SMS-based guest authentication at no extra cost or hassle that would necessitate the forging of a new relationship with an SMS gateway vendor?
How easy is it to configure guest access via multiple social media platforms?
Option 3: IT can create a network that enables users to join the network with a guest pass generated by an administrator. In this type of network access, users sign in with a personal password that is sent via email or SMS from a network administrator. Better yet, IT can scan a business card using CommScope's RUCKUS Cloud mobile app and generate a pass for the user. Can your cloud-based network management offer you an easy way to generate such personalized guest passes in a few clicks or with a single scan?
Option 4: IT can use a third-party captive portal provider. These third-party captive portal solutions often require additional licenses at an extra cost. This is because third-party captive portal services offer more than simple network access for guests. The primary reason businesses use these services is to deliver a personalized end-user experience that leverages various analytics solutions. It is important to note that CommScope's RUCKUS Cloud offers pre-configured integrations with various captive portal service providers. You can contact your RUCKUS certified Cloud Specialist Reseller for additional information about third-party solutions.
In conclusion, if you are looking for a solution that is attractive to all three – IT, end-user, and economic buyers – when it comes to enabling easy guest access, CommScope RUCKUS Cloud has it all. RUCKUS Cloud does not require you to deploy any software or hardware appliance. RUCKUS Cloud enables IT to set up guest access via four major social media systems. Generating unique guess passes is a breeze with RUCKUS Cloud. RUCKUS Cloud does not require you to bring in a third-party SMS service provider at an extra cost. If you think this is too good to be true, then you don't have to take my word for it. I invite you to try it for free today. . Start your free trial of CommScope RUCKUS Cloud today and receive a free Wi-Fi AP by clicking the button below.