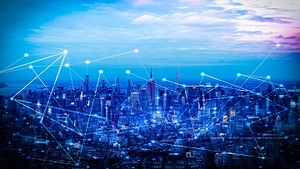 On April 1, 2020, FCC Chairman Ajit Pai announced his proposal for new rules to enable unlicensed operation in 1200 MHz of spectrum in the 6GHz band, from 5925 to 7125 MHz to be specific. The most notable and familiar unlicensed technology is Wi-Fi, and the Chairman's action would increase the amount of prime mid-band Wi-Fi spectrum by nearly 500%. The IEEE plans to utilize this 'greenfield' unlicensed spectrum for the latest generation of Wi-Fi (802.11ax). The Wi-Fi Alliance plans to refer to this as "Wi-Fi 6E".
CommScope applauds this initiative. "CommScope commends Chairman Pai and the FCC for their plans to make the 6 GHz band available for unlicensed operation," said Morgan Kurk, CommScope's CTO. "Along with other initiatives such as CBRS and C-Band, the Commission's actions are providing the essential mid-band spectrum (licensed, unlicensed, and shared) that enable the U.S. to lead in wireless connectivity for the economy and the home. The wireless industry needs more spectrum to enable wider channel bandwidths which in turn will usher in the multi-gigabit age. This decisive move by the FCC will give Wi-Fi and other unlicensed services the capacity and capability to drive new and innovative applications. The current COVID-19 situation vividly illustrates how a high-bandwidth, high-reliability, highly accessible network is as critical as electricity to survive and thrive in society."
CLICK TO TWEET: CommScope's Charles Cheevers highlights the FCC's recent proposal to enable unlicensed operation in 1200 MHz of spectrum in the 6GHz band.
Wi-Fi 6 was the first change in the Wi-Fi MAC and PHY for 20 years and enabled a new 4x performance in Wi-Fi. A Wi-Fi 6 Access Point added to the home will improve Wi-Fi performance generally by 25-28% in a mixed Wi-Fi 5 and Wi-Fi 6 environment. But with the addition of specific 6GHz spectrum that only allows for Wi-Fi 6 devices to use it, the FCC ruling has now brought an immediate opportunity to avail of the 4x performance improvement.
In the home, Wi-Fi 6E will bring tremendous opportunity and will drive new 'All Home' wireless architectures. In Multi-Dwelling units in particular – where congestion prohibits the evolution of high capacity services the new spectrum will have its first immediate advantage allowing almost a clean channel approach to each apartment. In the regular 2,600sq ft single Family home, Wi-Fi 6E with up to 320MHz of channel capacity will allow us to create a multi gigabit backbone that can backhaul each individual room to its own "in room" access point providing a separate clean 160 MHz Wi-Fi 6E channel at up to 4Gbps in each room. And its not only speed that improves with Wi-Fi 6E, it's the determinism and lower latency of the traffic to the device. This essentially enables Wi-Fi 6E to become a 'pseudo-wire' technology and perform wirelessly at ethernet-like 1-2.5GbE speeds.
It also offers Service Providers a unique opportunity to use the 1.2GHz of spectrum as first tenants for 'bookended' Wi-Fi 6E services which include:
Wi-Fi 6E Meshing
Wi-Fi 6E Smart Media Devices for low latency and HDR 4K and future 8K rates
Platform for wireless connection to VR/AR wireless HMD connections
Deterministic and low latency gaming services
For Cable Operators introducing new 10G/DOCSIS 4.0 services and Service Providers introducing XGS-PON 10Gbps services, Wi-Fi 6E allows the ability to match the WAN speed with a new Wi-Fi 6E Wireless LAN and so is a perfect technology match for consumers.
The Wi-Fi Alliance expects that once the 6GHz band is open for use, new devices will be introduced including Wi-Fi 6E enabled Smartphone, Ultrabook's and Tablets.
In addition, in the Enterprise and other Verticals Wi-Fi 6E is also expected to be adopted for high capacity, deterministic low latency applications in the office and industrial environments.
CommScope will continue to leverage its extensive expertise in Wi-Fi devices and applications to help usher in a new era of wireless access and services for homes and businesses.
In CommScope we are already well down the path on introducing exciting new Wi-Fi 6E products for both the Home and the Enterprise and demonstrated early prototypes for these at CES in January this year. Watch this space for more Wi-Fi 6E news in the near future.