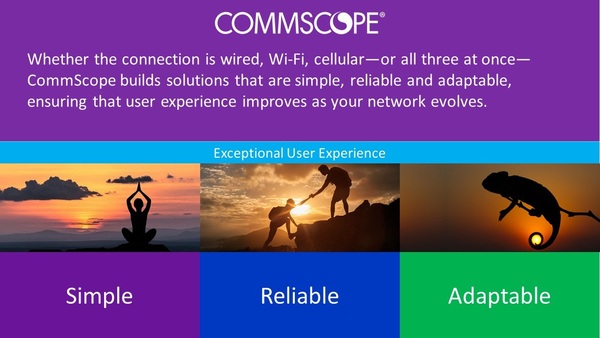 The word "essential" is seen everywhere these days. Essential workers are the backbone of essential businesses that are staying open to provide essential services or essential items to their customers. The word has taken on more gravity in recent months – and in the current environment we are given a lens to define (and debate) what is truly essential and what isn't.
Since the beginning of 2020 and the outbreak of the COVID-19 pandemic, we've seen the need for critical infrastructure in essential businesses such as healthcare where networks were stretched to their limit, just like vital employees. As the focus shifts and employees begin to return to their workplace, as students go back to campuses, as sports teams kick off a new season and fans enter stadiums and venues, that same "essential" infrastructure needs to be in place. Here are three items to consider as you prepare for the next season of business: simple, reliable, and adaptable.
CLICK TO TWEET: CommScope's Jason Reasor explains why during COVID-19, your infrastructure is essential.
A simple networking portfolio often provides benefits that are best understood when they aren't there – a single network to support multiple applications, power and data on the same media, a solution that is easy to design and easy to deploy. These are the hallmarks of simplicity and are at the core of our connected building portfolio.
A reliable network provides the resiliency needed to withstand the unexpected. Performance guarantees above the industry standards provide bandwidth to support both today's applications and the applications of tomorrow. Yet another layer of support and expertise is offered through a global network of solution providers.
Adaptable networks are flexible and expandable in all kinds of environments and with various types of applications. Indoors, outdoors, IT and OT networks – adaptable networks support them all.
When you add it all up, you can see that the infrastructure is essential, no matter what lens you view it through. By focusing on simplicity, reliability, and adaptability, decision makers can be comfortable knowing they are making a smart choice.
Structured cabling providing industry-leading bandwidth, power and intelligence
Learn more