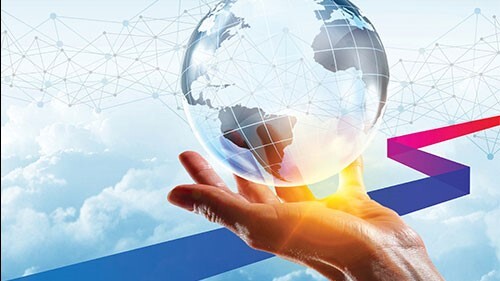 In 2020, each person on the planet created (on average) 1.7 MB of data every second of every hour of every day. As people around the world increasingly produce and consume information, service providers are examining their networks and making decisions to expand capacity. Passive optical networking, or PON, is gaining momentum as the next generation technology choice for service providers that are building access networks that are ready to support our hyper-connected world and the new wave of data growth that comes with it.
CommScope's position as a PON innovator, standards leader, and one of the technology's earliest architects gives us unique insights into the most important considerations for service providers that are preparing for next generation PON deployment. Among the highest priorities in ensuring these networks can stand the test of time is the selection of hardware that leverages existing infrastructure, reduces hardware costs, and creates high returns for outside plant investments. Here are a few considerations that can help service providers plan for PON deployments that are both capital friendly and future-ready.
Make the most of what you have
PON networks require active Optical Line Terminals (OLTs) to be deployed at various locations within the network. But building new facilities to host active electronics is expensive, making it critical to reuse as many existing points of presence as possible to house these new OLTs. The key is to seek out OLT hardware that can be deployed in a variety of locations, whether that is in the central office or an enclosure in the outside plant. It's also important to leverage existing fiber runs by choosing PON systems that are built to support 100G and DWDM. This helps service providers expand network capacity without pulling new fiber or rearchitecting the outside plant.
Disaggregate and decouple
Historically, PON vendors have integrated network management, control plane coordination, and layer 2 switching and routing directly into the OLT. Today, however, there are more efficient ways to handle these functions. Consider disaggregating network and control plane management from OLT devices and running them on COTS servers or in the cloud. This not only helps reduce PON hardware costs, but it also makes it fast and easy to deploy new features since developers don't have to wait for periodic system updates to launch them. Furthermore, by decoupling layer 2 routing and switching from the OLT, service providers can take advantage of standards-based, best of breed networking devices to increase the longevity of PON hardware and keep those innovative routing and switching features coming.
Choose your topology wisely
Because networks and segments evolve in different ways, service providers will want to consider the topologies in which they deploy fiber for PON networks. The choice between centralized, cascaded, daisy-chained, star, or other topologies often depends on how much existing fiber is usable for PON, the population density of an area, and the desired location for management and testing facilities. It is also helpful for service providers to evaluate their topology options against their network and business priorities. Doing so can help them strike the right balance between maximizing their use of existing plant, reducing passive infrastructure costs, or streamlining fiber deployment.
Stay open to new opportunities
Single vendor, proprietary solutions are sometimes tempting, but in the long run they can drive up costs, impede innovation, and reduce the availability of much needed hardware inventory. That's why open, standards based PON solutions are advantageous. They help service providers build multi-vendor network environments that keep the spirit of competition alive, while reducing costs and increasing the availability of critical equipment.
Ready to learn more?
CommScope is writing the book on PON considerations that can help service providers maximize their capital investments, reduce OPEX, improve service quality, and accelerate the pace of innovation in their networks. It's called "A Comprehensive Guide to Next-Gen PON Decisions" and the first chapter is available now. In it, we provide sound advice based on decades of PON experience to help service providers get the most out of their PON hardware investments and ensure their networks are ready to stand the test of time. We hope you'll check it out today—and stay with us as we publish additional chapters in the coming months.
The eBook has more details – check it out.