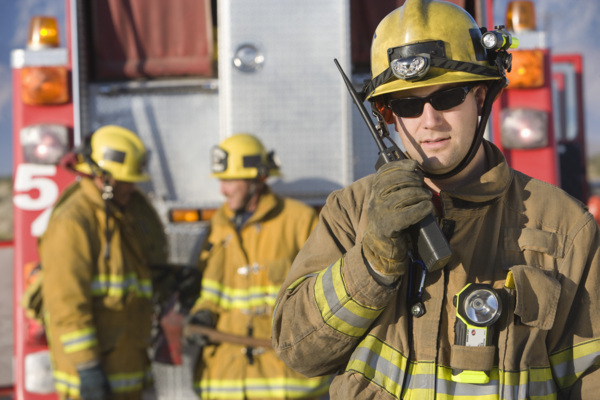 Every second counts in emergency response. That is why real-time communications across multiple agencies and multiple jurisdictions—as well as inside and outside buildings-- is critical to ensure the safety of citizens. These communications vehicles are increasingly complex in a mobile environment and yet must be reliable, secure, and easy to use.
There is also a significant shift in the end-user technology consumption model for emergency communications. Evolving from rotary-dial landlines to mobile phones to text and video calls. These changes will force emergency communications systems to adapt and leverage newer technologies to improve public safety systems. To that end, improving nationwide interoperability of emergency communications is a major goal of top federal government emergency executives and their industry partners.
"Improving nationwide interoperability will dramatically reduce systemic risks across all of the 55 National Critical Functions (NCFs)," according to Billy Bob Brown, Executive Assistant Director for the Emergency Communications Division in the Cybersecurity and Infrastructure and Security Agency (CISA). NCFs are functions of government and the private sector so vital to the nation that their disruption, corruption, or dysfunction would have a debilitating effect on security, national economic security, or national public health or safety.
I joined Brown and emergency communications executives from the Federal Emergency Management Agency (FEMA) and the Transportation Department (DOT) along with others from industry on a recent webinar hosted by Federal News Networks' Federal Executive Forum. The webinar, Emergency Communications & Public Safety Strategies in Government 2021 "Progress & Best Practices", addressed the challenges and opportunities associated with emergency communications.
"States are making progress in improving their infrastructure to a digital Internet-based infrastructure, which will allow them to use multimedia images and allows them to connect," said Laurie Flaherty, Coordinator, National 911 Program, National Highway Traffic Safety Administration with the DOT.
"There are states now in the process of figuring out how they are going to interconnect with their neighboring states because what we want to ultimately end up with is an interconnected system of systems [for 911]. There are pockets of that at least in half a dozen places in the United States," Flaherty said.
Industry Partners Play Critical Role
The Integrated Public Alert and Warning System (IPAWS) has expanded its digital reach to push alerts to cellular phones and other Internet-based devices and display methods, according to Wade Witmer, Deputy Director of IPAWS' National Continuity Programs within the FEMA Resilience Office. During 2020 the use of IPAWS expanded, almost three times more alerts were sent by local authorities and state authorities than in previous years, Witmer said.
As a result, IPAWS received additional resources to stand up a 24/7 call center. "We now are available around the clock to provide guidance and assistance to public safety officials who are looking to get emergency information to people when they need to," Witmer said.
Industry partners play a big role in getting those alerts to the public, he added. "We don't get any message to any person without partnerships with the private sector," including the wireless and infrastructure providers, Witmer noted.
Building scalable solutions in the 5G domain between commercial cellular and private networks is important on the wireless side.
On the wired side, the focus is on building a robust backbone. As more networks, Internet of Things (IoT) devices, and spectrum become available agencies need both connectivity and power. Every edge device needs power and connectivity and those two capabilities should be integrated for ease of use and scalability.
Meanwhile, Panasonic, the developer of the Toughbook mobile solutions, is focused on delivering stronger, faster, more capable, and more mobile hardware options for public safety agencies, said Marcus Claycomb, Business Development Manager for the Public Sector with Panasonic Mobility. Particularly, with the Toughbook line the company is developing a single piece of hardware that can address multiple issues. That means unifying hardware and software solutions.
"We're shooting for a single pane of glass solution. Whether it is a single tool that solves all issues or multiple tools in a toolbox, we want a one-stop shop opportunity [for end users] for ease of use and service," Claycomb said.
The continued reliability of the network, making sure 5G becomes a reality this year, and interpretability are all high priorities for Verizon, according to Nicholas Nilan, Director, Public Sector Product Management with Verizon. Significant strides have been made with cellular phones and Long-Term Evolution (LTE) wireless technology, but first responders need much more. They need priority services across networks, Nilan said. Therefore, Verizon has embraced CISA's efforts with the Wireless Priority Services (WPS) program, which is designed to provide priority cellular calling capabilities when communications networks are congested.
"LTE networks are good today for interoperability, but they can be better when we come together to support first responders," Nilan said.
People are Valuable
Emergency communications is not all about new technology. Being aware of the mental state of the people who respond to emergencies daily is crucial and an important lesson learned over the past year, according to Flaherty.
"The most precious resource is the people, the telecommunicators who answer the 911 calls," Flaherty said. They are under a lot of pressure. Up to 25 percent of telecommunicators suffer from some form of post-traumatic stress disorder (PTSD). Flaherty's department has developed an NG911 resource guide for telecommunicators to address anxiety and misconceptions about how the technology will affect their jobs.
CISA's Brown leaned in on the people issue, also. The cultivation of relationships for better partnerships is important. To improve emergency communications agencies are coming together across federal and state agencies. "We can take advantage of infrastructure to move together faster. We can solve problems faster if we work together," Brown said.
Access the entire webinar here: Emergency Communications & Public Safety Strategies in Government 2021 "Progress & Best Practices".
Download our Public Safety Wireless Network for Federal Agencies brochure here.